The first sunrise painting that really caught the attention of people was Claude Monet's Impression, Sunrise. First shown at the Exhibition of the Impressionists in Paris in 1874, it is credited with the name of the movement. Its simplicity and beauty made it a popular choice for a museum display. Today, it is still considered one of the best paintings ever painted and a perfect sunrise painting for bedroom. It has become an iconic piece of art that has inspired many artists.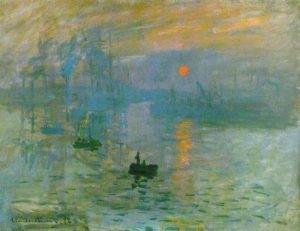 Why is Impression, Sunrise a good painting?
It was painted with loose brushstrokes in an attempt to suggest a scene. The colors were relatively restrained, but they were applied in thick washes and layers of gray to give the painting depth. The Sun is the central element in the composition, and it relies on the opposition of complementary colors. The buildings in the background are placed side-by-side to create a symmetrical look that contrasts the dominant yellow of the sky.
A similar effect can be achieved with the orange sun. It stands out against the dull green background and the surrounding colors, but it is no brighter than the other colors. The horizon line in this painting is almost invisible, with the buildings in the background suggesting that land meets the sky. As a result, the horizon is positioned above the center of the composition, which allows the Sun to be the central focal point of the piece. This composition also has a simple color scheme and a strong value contrast.