Peacock the vibrant beauty of the bird kingdom would light up any place it graces with its presence. It is one of the most popular wall art ideas. Earlier many people would hunt peacocks and decorate their living rooms with a stuffed bird. Since that is illegal now, the best option would be to find a beautiful peacock painting for your living room. Just having such a colourful bird's picture will brighten up the whole place. If you can accordingly coordinate the colour of your walls, arrange your furniture then the whole living room can be transformed by one painting. Here's a list of some peacock paintings that have been made by the most famous artists. You can order hand-painted oil painting reproductions, since most originals are in museums or private collections, for your living room.
A Peacock and Doves in the Garden
Eugene Bidau's phenomenal piece celebrating the peacock in all its glory would be perfect for a living room wall preferably on the wall that is most visible to everyone. A paintings like is bound to grab the attention of the guests. And you will also be filled with a sense of tranquillity gazing upon this sight. The pristine white doves serve as a contrast to the bejewelled peacock whose tail feather fills the canvas. The bird seems to be alive and ready to hop onto your living room floor. The flowers and the water is sure to lend a charm to your living space.
Young Girl with Peacock
Francois Aman Jean's piece is very mellow and warm. Perfect for houses that like the understated beauty or the living room decoration is more subtle and has shades of yellow or green. This would be perfect to put behind a boudoir of the living room. The style seems almost faded and reminds one of the warm autumn sunsets. The girl and the peacock seem to playing in harmony with nature.  One feels almost transported to the autumnal locale of the painting just looking at it.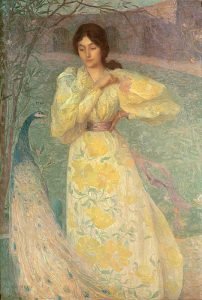 A Girl Feeding Peacock
Frederick Leighton's painting shows not just the regular colourful peacock but the rare an majestic white peacock almost extinct now. Another subtle piece perfect for living rooms that make use of satin or velvet or flowery wallpapers in the living room. It will only show well if the rest of the room is of a darker décor. Imagine a royal blue papered wall or a rich red and the painting hung on it. The regal image of the birds will speak for itself. It can turn an ordinary living room into something posh and elegant.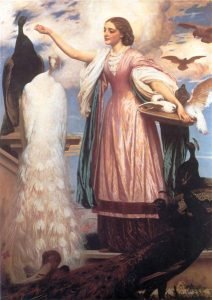 Cherry Apple and Peacocks on Rock
Kishi Gintai paints in a style very different from the western painters we looked at so far. This particular painting might not be to everyone's taste. It will require a very minimally decorated living room. The painting speaks of simplicity and to have it alongside a cluttered space would not show its true beauty. If you own a clean and grey toned living room or are really into Japanese style of décor then this piece would be a great addition.