Decorating a large wall above the couch can be a daunting task. When placed directly opposite your seating area, the expanse of blank space calls out to be filled. Decorating this particular spot in your living room is an opportunity to express yourself and make the room feel more inviting. The challenge lies in adequately filling the extra-large area while still keeping the design balanced and complementary to your home's existing style.
So, how to decoarate a large wall over couch?
Tips for Decorating A Large Wall Over Couch:
Step 1: Measure the Wall
When decorating a large wall over the couch, it is important to take accurate measurements prior to purchasing any decorations. This will ensure that all items chosen for this project will fit perfectly and look exactly how you imagined. Measuring the wall is a simple process that only requires basic materials.
To measure your wall, all you need is a tape measure and pencil or marker. Begin by standing in front of the wall and measuring from one side to the other with your tape measure. Be sure to note down all measurements on paper, including height, width and depth of each corner nooks if present.
Additionally account for any windows or doors that may be present on the wall as well as outlets or light switches located there so they are not blocked by furniture or décor pieces when installed later on.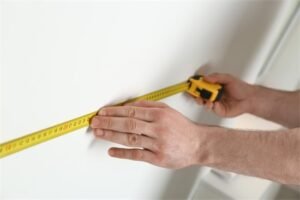 Step 2: Choose a Focal Point
When decorating a large wall over the couch, selecting a focal point is one of the most important steps. A focal point can be anything that you want to draw attention to and it should be centered on the wall above your couch.
Choose an eye-catching piece such as artwork or a mirror that can help bring out the beauty of your living room. Consider balancing color and texture with a painting or photograph, as these will help add dimension to your wall décor.
If you plan on making use of multiple pieces, hang them in an aesthetically pleasing way while being mindful of scale and proportion. Layering artworks from several different artists or genres can also create visual interest and break up any monotony when it comes to designing your space.
Ultimately, what matters is finding something that speaks to you personally and adds personality and character to your home's interiors.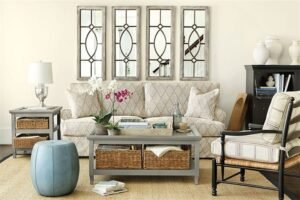 Step 3: Choose a color scheme
Choosing a color scheme for decorating your large wall over your couch is one of the most important steps in completing this design project. The right colors can bring out the furniture and create an atmosphere that reflects your style and personality. However, it's important to choose colors that will work together well on a large expanse of wall space.
To start, consider what colors are already used in the room. Think about how you want those colors to be complemented or contrasted on the walls. If you're not sure where to start, try looking through interior design magazines for inspiration or find images online with color combinations you like.
When selecting paint, look at samples and pick two or three shades that will allow for subtle variations in tone as light changes throughout the day.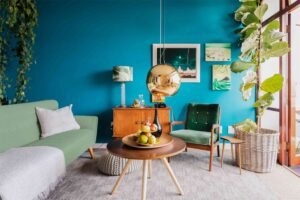 Step 4: Select wall decor
Selecting the wall decor can be an exciting part of the process as you choose pieces that reflect your own personal style and create a unique look in your home. It's important to pay attention to details such as size and how it fits into the room, as well as color, shape, and texture. With all these factors in mind, here are some tips on choosing the right wall decor:
First, consider what type of art or photos will work best with your other furniture pieces and color scheme. Do you want oil painting reproductions? Wall sculptures? Mirrors? Metal wall art? An array of photographs in different sizes? Once you have narrowed down what type of piece(s) you'd like to use for large-scale wall décor, think about where it should go.
Step 5: Create a Gallery Wall
The fifth step is creating your very own gallery wall. Start by selecting art pieces that will work well together, such as photographs, illustrations, prints or paintings that share similar colors or themes.
Create a grid layout with templates before beginning so you know exactly where each piece should go.
Once everything is placed accordingly, hang up the artwork using nails or adhesive strips for an effortless installation process.
Remember to leave some extra space between each piece for balance – don't overcrowd the area with too many frames!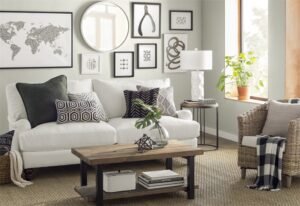 Step 6: Add lighting
Adding lighting to a large wall over the couch is an essential step in creating a stunning room. The right lighting can make all the difference in transforming your space into a cozy and inviting atmosphere.
You'll want to install lights that are proportional to the size of the wall, such as pendant lights or track lighting. Plus, you can use dimmers for instant atmosphere control! Consider installing sconces on either side of the couch for extra illumination and symmetry.
When choosing decorative lamps, pick ones that complement your other design elements like artwork or mirrors for added charm and style. Don't forget about using recessed cans with adjustable trim for task-oriented light when reading or watching TV.
With these tips and tricks, you're sure to find the perfect light fixtures that will take your wall decor from drab to fab!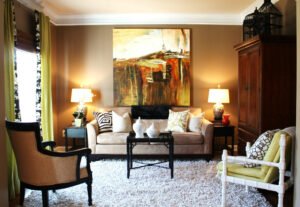 Conclusion
In conclusion,decorating a large wall over your couch can be a great way to add character and personality to any room. It's an opportunity to showcase your personal style and have fun with the design process. If you're feeling overwhelmed, keep it simple and choose one large piece of art or several smaller pieces. You could also create a gallery wall using photos, paintings, or other eclectic pieces. Don't forget to consider texture, color, and scale when selecting pieces for your wall.