A dog is the first pet that man ever owned from the days when we were not even transformed in to complete human beings; thereby it is definite that the love we have for these creatures is unconditional and undivided. In the modern days, we are surrounded by numerous distinct breeds of dogs some of which are docile and calm while the other is highly enthusiastic and valiant, but no matter what, they will always remain man's most favored species. When it comes to dogs, our heart says that the more, the better; capitalizing on this affinity, why not own a collection of dog paintings for your home? The paintings are just the right combination of a stunning and chic makeover and a way to eternalize your love for dogs. In the section below, we will give you a few reasons why we think the paintings qualify for an adorable assembly.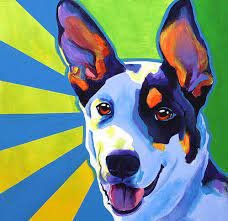 Dog paintings will play a huge role in brightening up your house
Paintings, be it of any kind, have a special charm in them; they remind us that no matter how easy life has been made with the introduction of technology that has left a direct impact on the high mega-pixel photographs clicked through the camera, the effort, time and sincerity that goes into capturing the moments through an artist's heart and hand, will never go out of style! If you especially cast a look on a dog painting, you will find that their eyes have been depicted with a positive glow, something that will automatically bring joy and happiness to every corner of the house.
Dog paintings are endearing to children
An innovative way to introduce dogs to your children to dogs from an early age would be by owning a collection of dog paintings on canvas. Children have been blessed with a special ability to recognize and connect with the innocence that they feel around them and researches say that dogs too are especially considerate when they are around children. Therefore, to look into their paintings around the house will make them feel that this animal should be treated as a part of their family and later in life they will naturally grow affection and kindness towards dogs irrespective of their shelters.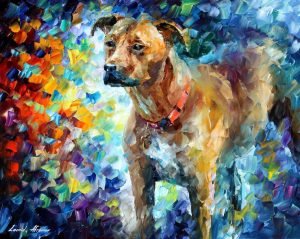 There's a variety
As we have already mentioned above that there so many different breeds of dogs that exist alongside human beings because of which, just like them, their portraits too can be produced in different varieties of color combinations, sizes, settings, and numbers. You can have a painting that has a single dog on it or one which is content to pose with his human friend or even with an animal of a different kind, putting forward a strong message that God has created all by beings with equal passion and no matter how disparate the species are towards each other, they can all be linked with one common factor of life.
Dog paintings can be implemented with special themes
If you're looking forward to redecorating your house and give it a classic look, then using dog canvas paintings for all your rooms will only enhance its appeal. You can have contrasting themes planned for each room and accordingly pick a dog painting; for instance, your child's room can have the painting of a cheerful puppy, your bedroom can have two loving dogs painted in black and white; similarly; it would be a nice idea to have a bold and daring painting of dog for your study or drawing-room.
Where can i get a painting of my dog?
If you want to get a painting of your dog, the best way is to commission a dog portrait painting. Or, if you like famous dog paintings, you can order a museum quality oil painting reproduction.