Powder blue is a fantastic color choice for a bathroom of any size or style. Besides the natural appeal of the hue, it presents an array of endless decorating possibilities. Instead of searching home decor websites and retails stores, keep in mind that homemade options are some of the very best of all. Impressive wall decor does not have to cost a lot of money, and you do not have to be an artist to create spectacular works of art. Consider these ideas for DIY wall hangings, and enhance the unique design of the space while saving money in the process.
Frame a Variety of Blue and White Wallpaper Patterns
If you want to add eye-catching art to your powder blue bathroom without spending a lot of time or money, create a homemade arrangement using wallpaper. Search online for blue and white wallpaper samples in various patterns and textures. Choose the paper according to the style of the space. Paste the samples onto cardstock or canvas boards, and surround them with stylish white frames. Create an array of five or six framed designs on the bathroom wall. It will look phenomenal, and you will save lots of money.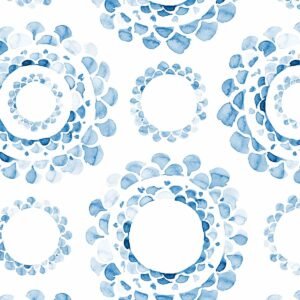 Create Simple Tree Trunk and Dot Leaf Wall Art
Absolutely anyone can create impressive works of art with stamps and acrylic paint. Tree trunk and dot leaf wall art is ideal for the beginner as well as professional artisans, and it is perfect for a powder blue bathroom. Light blue coordinates beautifully with brown, and natural accent colors can be incorporated into the randomly stamped designs.
Begin by painting a basic tree trunk with limbs and branches. It does not have to include details. Use dark umber acrylic paint on a light gray or white canvas board. After the paint dries, use round stamps in three or four different sizes to stamp abstract leaves on the tree. Use powder blue, medium blue, medium brown and light leaf green. Do not top one color with another before letting each color fully dry. You will end up with an impressive work of homemade art that will look fantastic in a contemporary or eclectic powder blue bathroom.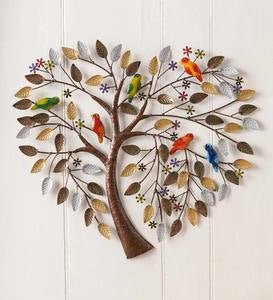 Use Sponges and Acrylic Paint to Create Stamped Works of Homemade Art
Not all stamps are made of rubber. On the contrary, some of the best stamps of all are made using artificial sponges. They can be used to create impressive works of art for a powder blue bathroom. Trace an outline of your choice on a new sponge, and use a pair of sharp scissors to cut out the shape.
Dip it in acrylic paint in a color of your choice, and stamp the design over and over again on a painted canvas board. Let the paint dry before changing hues. Frame the board after the paint has fully dried, and hang it in a traditional, contemporary or eclectic bathroom.
Unless you sign your works of stamped art, no one will realize that they are homemade. They will look just as good as or better than similar items that are sold at craft shows and in stores. You will be thrilled with the results that you achieve with wallpaper samples or homemade stamps and acrylic paint.