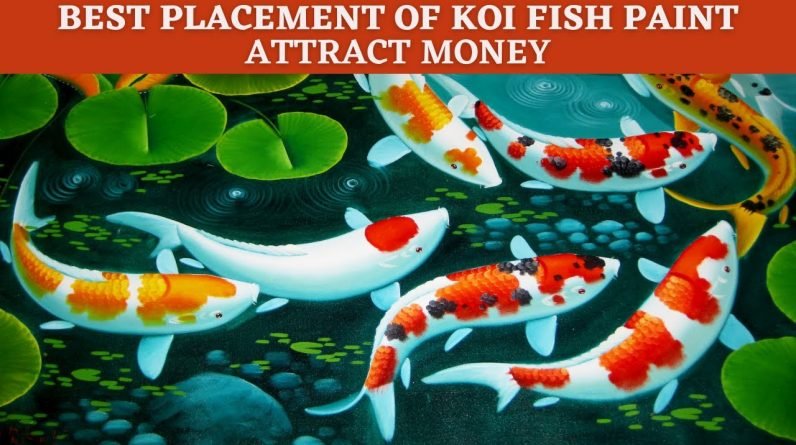 Feng-shui is an ancient art and science practiced for three thousand years in China. The word Feng Shui when translated in Chinese means wind and water, the most important components of nature, which are associated with the good components to ensure luck of good health and fortune. Feng Shui is more like an art of placement- understanding the relation of position between you and object and how it affects the various choices in life. It is a complex line of knowledge that deals with balancing and harmonizing the energies within a given space, may it be office, garden, or home. Feng Shui is also considered as a pseudo scientific process of experiment which strongly influences our life.
Fishes represent the energy of water, the life giving properties of water. In various cultures like Greek and Roman mythology and in Hindu household fishes are considered as a symbol of good luck and celebrated as a sacred symbol. And, in Chinese culture particularly, the symbol of fish has two attributed qualities. The first one is the aspect of abundance, as fishes have the ability to reproduce in large quantities. And the second fact is that the Chinese word for fish 'yu' is pronounced the same way as that of abundance. Therefore Feng Shui fish paintings are one of the most popular content of Feng Shui to attract wealth. Just like you choose your Feng Shui elements, the Feng Shui chooses you for your position of luck. If a position doesn't match up to the energies of home, it can act as bad Feng Shui resulting in opposite action.
AQUARIUM
Aquarium acts much like a painting, popular choice of cure for weath. They are auspicious because they bring a  harmonious combination of wealth attracting factors. It balances five elements at once, to ensure the best for a home :
Water element from the water.
Nature element in the small plants.
Metal element in the structure and build of aquarium.
Earth element for the small rocks and gravels placed within the aquarium.
Fire element through the bright colored fish or the internal lightings of the structure.
Feng Shui Arowana Fish Painting
Arowana is the most lucky fish for Feng Shui. It is also known as Dragon fish. Some of the special traits of arowana which attracts wealth are that they grow extremely fast and are of quite dominant and powerful nature. Therefore it brings the luck of wealth and nurtures it delicately.
Feng Shui KOI Fish Painting
Koi fish comes in various colors like red, yellow, white and black. The black color neutralizes the bad luck. 9 koi fish in a painting is considered as a lucky number. The paintings of Koi fish in a stream represents the fresh flow of abundance.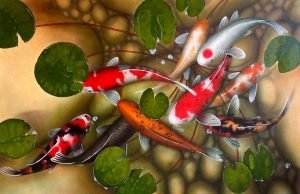 Feng Shui Goldfish Painting
The golden colour of gold fish represents its association with gold and their gracious movement creates a good energy in the room.
Feng Shui koi fish Painting Placement
The south eastern corner and north area of your home are the best option to place your Feng Shui fish art because those areas governs your cash flow and your creativity or confidence.
Famous fish paintings
9 PESCIOLINI ROSSI by GUIDO BORELLI.
SERENITY KOI by HAILEY E HERRERA.
COY KOI by SHADIA DERBYSHIRE