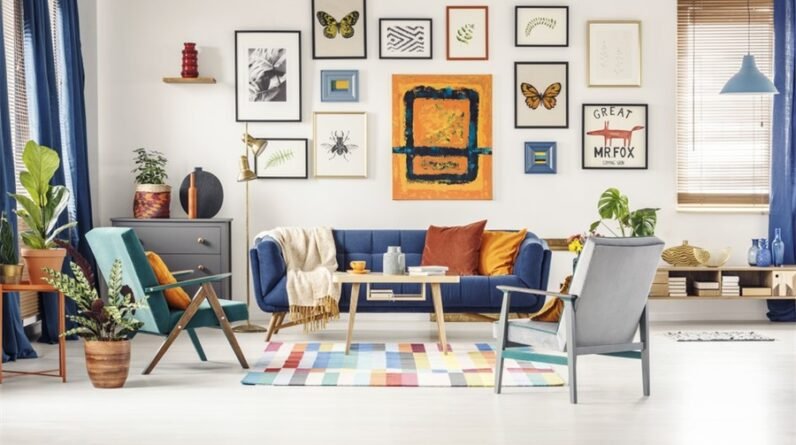 When decorating a home, it can be difficult to figure out how to fill a large blank wall. A large wall can feel intimidating, as it is often difficult to know where and how to start. If you're looking for creative ways to jazz up the biggest walls in your home, then look no further! This article will provide you with easy tips on how to decorate a large blank wall into beautiful works of art.
Factors to Consider
Wall color and texture
When decorating a large, blank wall, it is important to consider both the color and texture that you will use. Wall colors can have a huge impact on the overall atmosphere of a room, so it is essential to choose one that enhances the existing décor. Textures can also be used to introduce interesting patterns and give the room an added dimension of depth.
To find the perfect wall color, start by identifying other elements in your room – furniture pieces, rugs and artwork – and use them as inspiration. Consider creating a contrast between light-colored walls and darker furniture pieces or introducing complementary shades for a cohesive look.
When selecting textures, think about how they will interact with light in different ways throughout the day; grasscloth wallpaper offers an organic feel while textured tiles provide intricate designs that draw attention from afar.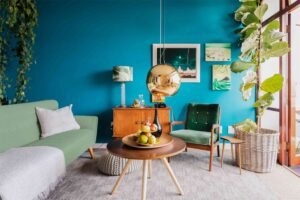 Room style and purpose
When deciding how to decorate a large blank wall, consider the overall style of the room first. What is the theme or feel of this space? Depending on what type of atmosphere you want to create in your home, you may opt for different types of decorations.
If it's a modern living room, consider using art prints and mirrors to add depth while keeping things sleek; if it's a cozy bedroom, use warmer tones like wicker baskets or rustic clay vases. Additionally, think about what activities occur in that particular room – do people often entertain guests?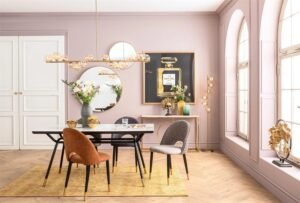 Budget
Budgeting is an important part of any home decoration project, and decorating a large blank wall can be particularly challenging when it comes to allocating funds. Whether you're working with a limited budget or want to create an impressive display without breaking the bank, there are several strategies that can help you achieve your goals. With careful planning and smart shopping, you can create a stylish and eye-catching solution for your large blank wall on any budget.
The first step in creating an attractive wall decor is to determine what type of materials you have available or are willing to purchase. Consider the size of the space and how much art or other items you need to fill it up. Once this has been established, take time to compare prices from different stores or online retailers so that you can save money while still getting quality products.
Lighting
Lighting is an important element of wall decor and can really help to turn a large blank wall into a beautiful feature. Decorative lighting can be used to add an elegant touch, while functional lighting can be used to create atmosphere or provide task-specific illumination. The key is to determine what kind of effect you want the lighting to have in the room and then select the right type of lights for your needs.
For a dramatic effect, use a combination of recessed lights and overhead fixtures such as pendant lamps, chandeliers or spotlights. For a softer look, install sconces or table lamps. If you're looking for something more modern, try LED strip lights or track lighting which are both great options for highlighting artwork or providing task-specific illumination.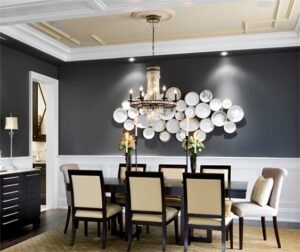 Creative Wall Decor Ideas
A. Wall Art
1. Canvas paintings
Canvas paintings are the perfect way to decorate a large blank wall. They can be found in virtually any style, from modern abstracts to classic landscapes. With canvas paintings, you can create a unique look that's both aesthetically pleasing and meaningful. Whether you're looking for something bold and colorful or something subtle and calming, there is sure to be a canvas painting that fits your needs.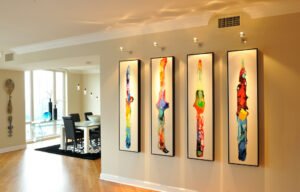 2. Framed prints
When it comes to decorating a large blank wall, framed prints are a classic choice. Whether it's an abstract art painting, a photograph of your favorite city skyline, or a portrait of your beloved pet, framed prints can add personality and style to any room. Not only do they offer versatility in terms of size and color choices, but framed prints also help bring attention to the most important elements in the room.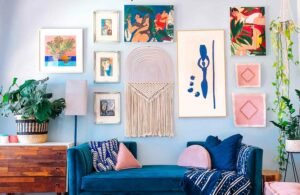 3. Wall Murals
Wall murals are the perfect way to transform a large, blank wall into an eye-catching feature. They come in a variety of styles and can be used indoors or outdoors depending on your preference. Wall murals are ideal for adding personality to any space and providing unique decor elements that no other type of art can match.
Creating a wall mural is surprisingly simple – all you need is some basic supplies, time and creativity! First, decide what type of mural you want to create. There's anything from traditional oil paintings to abstract patterns and graffiti. Once you have chosen your design it's time to get creative with paint, pencils or even decorative tiles. Experimenting with different colour combinations will help bring your mural to life. When painting a wall mural always make sure you use high quality paints that won't chip over time.
Bormia Wall Mural Fantasy Forest Nature Wallpaper Tropical Jungle Landscape Wall Sticker for Livingroom Sleeping Room Activity Room
MURAL SIZE - Approx.151"x105"(385cmx268cm)(Wx H), This mural wallpaper cut into 7 strips. All is marked with number under each strip. You can put it in sequential order before you install it
MATERIAL - Forest murals for walls is made of premium silk material. Ecological printing with lightfast, UV resistant lasting colors. Durable and waterproof, fadeless and odorless, non-toxic and eco-friendly.
INSTALLATION - 1.Fill in all cracks or holes and clean dust dirt and grease on the wall surface. 2. Apply the heavy duty wallpaper paste on the wall not mural. 3. Use a spirit level to mark first strip location. 4. match the pattern by sliding into place. 5.use a scraper to smooth out bubbles press. 6. Let dry for a few minutes and that's it! Please Note: Not self-adhesive. We recommend to use a standardized fleece wallpaper paste.
NO OVERLAPPING - Compared with other murals, our wall mural won't overlap. Each parts can direct match next part, Looks more natural and easy to assembly.
APPLICABLE OCCASIONS - Bormia large wall murals are ideal as a background or backdrop. Decorate your living room, bedroom, kids room, dining room, office, kitchen.
B. Wall Shelving
Wall shelving is an excellent way to spruce up a large blank wall. It can add visual interest, provide storage space, and create focal points that draw the eye.
1. Floating shelves
Floating shelves are a functional and stylish way to decorate a large blank wall. Whether they're made of wood, glass or metal, these shelves offer an easy way to break up the monotony of an otherwise empty space. Not only are floating shelves aesthetically pleasing, but they can also be used to store books, pictures and other trinkets that bring personality into your home.
When designing your own set of floating shelves, consider their purpose and placement. Do you need them for storage or decoration? What kind of items will you be displaying? Think about the height as well; placing them too high could create an awkward division in the room. If possible, try hanging several staggered sizes side-by-side for a unique look that gives dimension to any wall.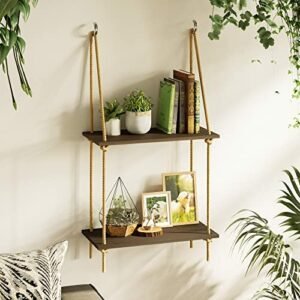 2. Bookcases
Bookcases provide a stylish and practical way to fill large blank walls. Whether you are an avid reader or simply want to add some visual interest, these versatile pieces of furniture can be used in any room. From traditional wood designs to more modern metal and glass shelving, bookcases come in a variety of styles that can match your home's interior design scheme. Not only do they provide plenty of storage space for books and other items, but they also create an eye-catching display when decorated properly.
3. Ladder shelves
Ladder shelves are a great way to add some extra storage and decorate a large, blank wall. They come in all shapes and sizes, so there's something for everyone. Not only can you keep items off the floor or countertops, but adding a few decorative elements such as books, plants, or framed photos will also turn these shelves into wall art.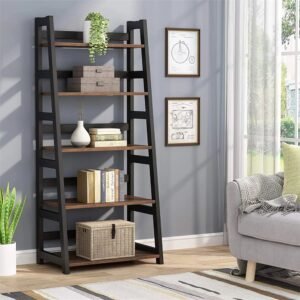 C. Tapestries and Wall Hangings
Tapestries and wall hangings are a great way to add texture, depth and beauty to your home. These pieces of art can be used to make a bold statement in any room, from the living room to the bedroom. If you have a large, blank wall that needs some decoration, tapestries and wall hangings can provide an easy solution.
1. Woven tapestries
Adding a woven tapestry to a large blank wall can be an impressive and easy way to make any room look more inviting. Woven tapestries have been used for centuries in homes for decoration, as well as to tell stories about the people who live there. There are many ways to decorate with tapestries, such as using them as wall hangings, table runners or even bedspreads. If you're looking for a unique way to add colour and texture to your home décor, then woven tapestries are a great choice.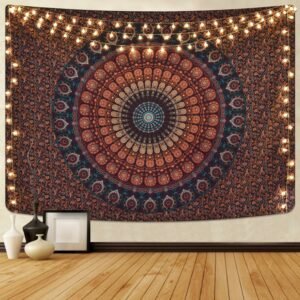 2. Macrame wall hangings
Macrame wall hangings are a beautiful and unique way to decorate a large blank wall. Not only do they add texture and dimension, but they also bring an artistic effortless quality to the room. Macrame is the art of knotting cords or strings into intricate patterns that create an eye-catching piece of textile art. With some basic supplies like cotton cord, scissors, and beads you can make your own beautiful macrame wall hanging in no time.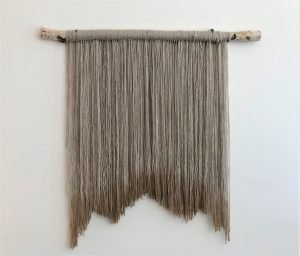 Fabric banners make an excellent choice when it comes to decorating a large, blank wall. They come in many different shapes, sizes, and colors and can be used both indoors and outdoors. Whether you are looking for something more abstract or a statement piece, fabric banners provide an easy way to create a bold design statement.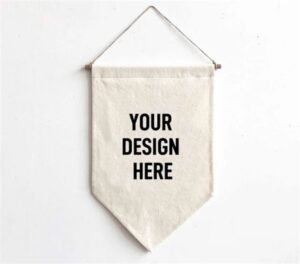 D. Statement Pieces
Statement pieces can make a huge difference when it comes to decorating a large, blank wall. Whether you're looking for a unique way to fill the space or you just want to add some extra character, statement pieces can be used in many different ways. From vibrant artwork to eye-catching furniture and accessories, there are plenty of options available for those looking to make an impactful statement with their wall décor.
When considering which type of piece is best suited for your specific needs, it's important to consider the size and style of the room where the wall is located. Larger spaces tend to look better with larger statement pieces, such as oversized paintings or mirrors, while smaller rooms may benefit from smaller items like sculptures or vases.
1. Large mirrors
Large mirrors are a great way to fill a large blank wall and make the room appear larger. Mirrors also add a unique aesthetically pleasing touch to any room.
When choosing the right mirror for your wall, it's important to think about which type of mirror will best match your existing decor and furniture. For instance, if you have contemporary style furniture in the room, then you should look for modern mirrors with distinctive shapes or sizes that will create an interesting visual effect on the space. If you have more traditional home decor, then consider selecting a classic framed rectangular or oval-shaped mirror instead.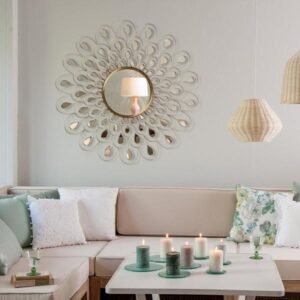 2. Bold clocks
Adding a bold clock to a large blank wall can instantly transform the entire look of a room. Whether you prefer an antique style or modern design, there are countless options that will fit any decorating theme.
For those looking for a timeless timepiece, opt for large-scale wall clocks with classic features like roman numerals and traditional hands. To make a statement, go for oversized pieces featuring bright colors and eclectic designs.
Whichever option you choose, incorporating a standout clock into your décor provides an eye-catching element that visually defines the space. Not only does it provide warmth and charm but also adds function as well as beauty to any room's aesthetic. With so many styles available, you're sure to find the perfect piece to add drama and sophistication to your home's interior design.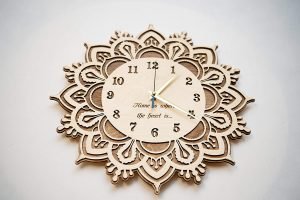 3. Unique sculptures
Unique sculptures are a great way to decorate large blank walls. They can be used to add a touch of personality and style to any home or office. Sculptures come in many different sizes, shapes, and materials so it is easy to find one that fits the desired theme for a particular wall.
Sculptures made from wood, stone, metal, clay, or other materials provide an interesting focal point on any wall.
Statues of animals or abstract art pieces produce eye-catching effects that will attract attention from visitors into the space.
Additionally, sculptures can be lit up with LED lights for an even more dramatic effect.
Handcrafted sculptures by local artists are often unique and can add a personalized touch to any room's décor.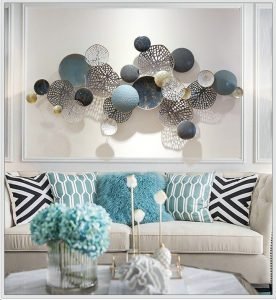 Tips for Hanging and Arranging Decor
Having a large, blank wall in your home can be daunting. Decorating it can feel like an overwhelming task, but with the right tips, you'll have the perfect wall decor in no time.
A. Proper placement of wall art
When it comes to decorating a large blank wall, the proper placement of wall art can make all the difference. Wall art can be used to add style and interest to an otherwise dull space, while also making the room feel larger. But if not placed correctly, art can become lost in the vastness of a large wall or detract from other pieces in your home.
Here are some tips on how to properly place wall art for maximum effect.
First, think about your color scheme. Consider choosing artwork that will complement or enhance existing colors throughout the room and when selecting frames for photos or paintings make sure they don't clash with any existing furniture or fixtures.
Additionally, try placing different sized artwork together in a gallery-style format so that each piece stands out on its own yet still looks cohesive as a group.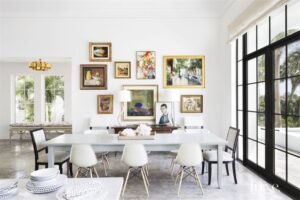 B. Tips for hanging heavy items
Heavy items such as artwork, mirrors and other decorative objects can create an attractive focal point in any space. However, when it comes to hanging heavy items on the wall, it's important that you take extra precautions to ensure that your decorations are safe and securely attached.
Here are some tips for hanging heavy items on your wall:
First and foremost, know exactly how much weight your walls can handle before attempting to hang anything. If in doubt, contact an expert or someone with experience in construction who can help make sure your walls are capable of bearing the weight.
Secondly, make sure nothing you hang on the wall is going to block any sprinkler heads or interfere with smoke detectors. Keep in mind that heavy decorations can also cause your walls to sag over time, which can make your smoke detectors less effective and potentially even damage your sprinkler system.
Thirdly, make sure you're using the appropriate screws to hang your decorations. If you're not sure what screws to use, consult a professional or someone with experience in the matter.
C. Creating a gallery wall
A gallery wall is a fantastic way to liven up any large, blank wall. It involves arranging artwork, photographs, and other pieces in an artful and eye-catching manner. Creating a gallery wall can be an enjoyable and rewarding process that allows you to use your creativity while also displaying items that remind you of special memories or events.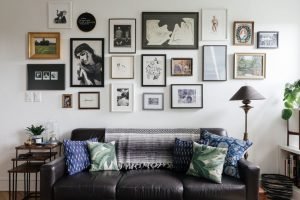 D. Balancing negative space
Balancing negative space can be a great way to add interest and texture to any room. With the right techniques, it's easy to transform an empty and dull wall into something that adds a unique element of design to your home. Negative space is all around us — from the way we position furniture in our living rooms, to the open areas in artwork — and knowing how to properly integrate it with other elements of your decor can take your home's aesthetic up a notch.
Conclusion
In conclusion,decorating a large blank wall can be an enjoyable and creative way to transform your living space. It doesn't have to be complicated or expensive to achieve the desired effect. With some thoughtful planning and the right materials, you can create an attractive feature wall that will make a lasting impression. Don't be afraid to think outside of the box and try something unexpected. Remember, there are no hard and fast rules when it comes to decorating your walls – have fun with it!