Old oil paintings often crack. The cracks in a painting are one of the most obvious signs of aging. These changes in appearance may also occur with fine patterns known as craquelure and "crackle". The term 'crackle' refers to the fine pattern in the paint layer that is associated with the formation mechanism. In contrast, 'ageing cracks' are larger and more irregular in appearance.
What Causes an Oil Painting to Crack?
The cracking in an oil painting can be a result of different reasons. For example, the underlayer of paint is prone to drying. The top layer contains more solvents, causing it to dry faster than the lower one. When this happens, the top layer will be brittle and start to crack. It is not possible to repair a cracked layer of an oil painting. This will only compound the problem.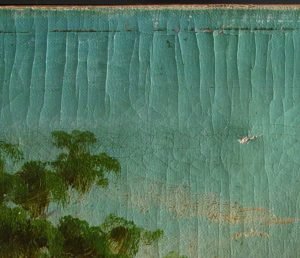 The construction and layering of an oil painting are both important factors in determining whether an oil painting will crack. A single coat of paint with a normal thickness will take around a year to crack. A thicker layer will take about six to nine months before it cracks. Consequently, a thicker layer will require several years to develop. This process can be costly as it requires scraping away the old layer, which will ultimately lead to more cracks.
How Long Does It Take For Oil Paintings to Crack?
Many people wonder how long does it take for oil paintings to begin cracking. These problems are not as difficult as they may seem. They usually occur when paint layers do not dry enough. As a result, the painting begins to separate and crack. This is not necessarily a defect, but it is a sign of deterioration. However, most of these problems can be avoided. If you want to know how to prevent them, read on.
Oil paints are made to last for many years, but over time, they will crack and split. These cracks will develop in different areas of the painting. They are called ageing cracks, and they occur as a result of poor layering practices and poor quality materials. One of the main causes of cracking is the "fat over lean" rule. In general, it takes about two years for an oil painting to completely dry.
Oil paints are often treated with oil mediums, which can be added to protect the paint from cracking. These mediums can be linseed oil, stand oil, or safflower oil. Some oils are also known as inflexible and flexible, and they can help preserve the painting for years to come. Depending on the type of oil you use, you can expect your painting to crack as it ages.
How to fix cracked paint on canvas.