If you're wondering how to make oil paintings look old, you come to the right place.The process of making your new oil paintings look aged is not as difficult as you might think. The process can be used to create shabby chic decor, or to dress stages and sets in a theater or film production.
Start by thinning acrylic paint
You can start by thinning acrylic paint. This will make it appear more like watercolor, and will cause it to sink into the canvas. After you finish, let it dry. You can also add crackle paint to your painting by mixing different colors and applying it to the canvas. This will help protect the painting and prevent it from chipping or peeling. This process will also make it look older than it is. You can follow this step until the painting has achieved the appearance you'd like.
Overmix the paint pigments
Another tip for creating a vintage-looking painting is to overmix the paint pigments. Overmixing the colors will result in a faded, dull color. The frame you use should also complement the painting's subject matter. If the painting is a landscape, a rustic wood frame is a perfect complement. Adding a shabby-chic frame will not only make it look old, it will also give it a new life.
When you're finished with the base coat, apply the top coat of paint. If you're using acrylic paints, add a few drops of acrylic medium to make the layer thinner. When you're finished, allow it to dry. Adding more layers of crackle paint will give it a worn-looking appearance. When the base coat has dried, you can apply a layer of burnt umber and crackle medium to the surface to add a cracked effect.
For a more realistic look, you can add cracked paint. Cracking paint is a natural feature of old oil paintings. The paint will look worn and dingy with age as it dries. A relined painting will have a uniform color. It will look cheap if it hasn't been properly restored. So, you should consider a few steps to make the painting look aged.
There are some other methods can make oil paintings look old:
Use cracked canvas instead of normal canvas
There are cracked canvas in the market for sale which made for creating old-looking painting.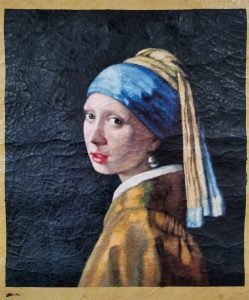 Use antique oil
Apply antique oil on the finished painting which will make oil painting looks old, the process is similar to varnish an oil painting. But please note that i can be only done after paints are dry enough. Otherwise, painting will be destroyed.