There are so many forms of art that famous painters over the past few centuries have presented in their artwork. Some of these paintings come with crystal clear visuals that anyone can understand the message hidden inside. However, some artists are creative enough to hide millions of secrets in every painting. Many of these art forms have some close relationship with religious and mythological beliefs. Well, here we are going to talk about fantasy paintings, one of the most amazing pieces of art that have ruled millions of hearts around the world.
You can easily find many phenomenal pieces of art from many famous artists in the market. They represent so many movements of gods, demons, angels, and many other similar creatures. Most of the fantasy paintings around the world are inspired by Green & Roman art and Christian Mythological Art. Other than this, it has a close connection with African myths, Chinese Folklore, and many other superstitions regarding magic. A wide range of fantasy paintings can be found in famous museums.
Fantasy art is actually a unique and impressive mixture of imaginations and shows amazing observation power of the artists. The creative painters pick some real fact in their mind, and while drawing it on the canvas, they mix it with some dreamy, fantastic, unrealistic, and fanciful ideas. Most of the people call them wild imaginations of the painters.
You can easily find many such paintings on the online store, and they can be the best choice for your living room. No matter whether you are looking for a unique painting to decorate your modern home or want to get something wonderful for the traditional interior; the fantasy paintings can be an integral component of the décor. These paintings are currently available in a variety of shapes and sizes; you can easily pick one that suits your living room in the best possible manner.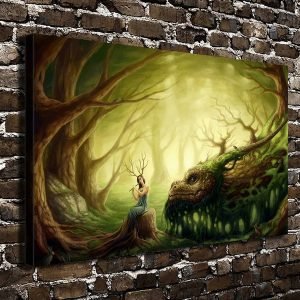 Fantasy paintings are usually difficult to explain; still, viewers find them very interesting. Actually, there are loads of secrets hidden behind every fantasy painting; it is difficult for beginners to identify all creative the elements of beauty inside this imaginative work. Painters prefer to use so many art forms to design some of the most impressive fantasy paintings. The new-age trends include cubism, expressionism, abstraction, and surreal art; however, fantasy art has also achieved a new form with innovative ideas.
Those who are planning to buy a famous fantasy artwork for their home are advised to check Outpost Art's fantasy art collection. Prefer to fix the area for the painting in your living room and then look for the right size of the painting. Make sure the selected painting tells the best story to every viewer. The idea must fall in coherence with your existing home décor. It is good to check the latest ideas from famous fantasy painters first and then create a unique combination by mixing large and small frames. Such patterns will add more value to your living room art gallery.