Parents are always curious to find something unique and valuable for their kids. They have lots of hopes during the growth stage of the child and want him to learn the best. Probably, you might have brought several knowledgeable books to home so that your child can learn something new every day. But experts reveal that the development and focus of your child depend greatly on the environment where he lives. If your child is always surrounded by cartoons, he will find it difficult to develop a mindset towards the magical things in the universe.
Well, if you want to guide your child's mind towards the amazing things on this and out of this planet, you need to develop his thought process. And the very first step in this direction is to decorate his room with such positive vibes. You can choose the room décor by judging the interest of your growing child and make his playing area or study area truly motivating for him. Many parents these days even prefer to buy galaxy paintings for child's study room. Indeed, it is one of the best additions to their home and can help them to observe some unique fact about galaxies. For a growing kid, the painting hanging in his study room matters a lot. He will spend several hours watching that galaxy painting and will definitely get curious to know more facts about it. With time, you will find your kid searching facts about galaxies on the internet. It is the best way to divert his mind from cartoons to something really amazing in life.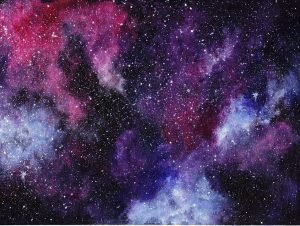 Note that, a galaxy is a huge group of stars, dust, interstellar gas, star clusters, and dark matter as well. Many experienced painters around the world have designed beautiful galaxy paintings in variable size ranges. You can pick any of these stunning collections to decorate your child's room. Depending upon the size and décor of the premises, you can choose large size galaxy painting or the smaller one. Prefer to install the larger one in front of his study table, or you can hang it on the wall that your child faces while sleeping. It will be the first thing that he will watch every morning, and it will definitely inspire him to know more facts about galaxies. With time, you can also guide your child to the field of astronomers, and he would love to make a more in-depth analysis of the painting that he is watching right from his childhood.
It is good to pick a painting that is designed with a perfect combination of dark and bright colors. A galaxy painting usually has a darker impression, but you can pick a shiny one that presents a unique look when lights are off. You can pick the oil painting or the watercolor painting depending upon your home décor. Your one-time investment on a beautiful galaxy painting can change your child's life goals.