Whether you're a lover of the stars or are simply looking for a serene view, the night sky is an ideal subject for many works of art. From Starry Night by Van Gogh to Boulevard Montmartre at night by Pissarro, these paintings will surely make your eyes happy. And if you like these famous night sky paintings, consider purchasing oil painting reproductions for your wall.
The Starry Night by Van Gogh
Known for its intense color palette and emotional impact, The Starry Night by Vincent van Gogh is a beautiful painting that inspires countless interpretations. Vincent Van Gogh was a patient at the Saint-Paul-de-Mausole mental asylum in France, but was encouraged to spend time outdoors. Van Gogh's brother provided him with a private studio to work in, and the result was a series of brilliant works, including the Irises and the fabled Starry Night, painted within a few days in June 1889.
During his depression, the artist experienced a relapse of his mental illness, which manifested itself in hallucinations and thoughts of suicide. To combat his depressive moods, he reverted to using darker colors, and the starry Night is no exception. Starry Night has a predominant blue color, and the village at the base of the painting is rendered in grays and browns. The buildings are highlighted in black. The moon and stars are also emphasized in the painting, attracting the viewer's eyes to them.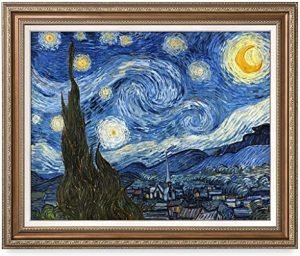 Starry Night Over the Rhone by Vincent van Gogh
The "Starry Night Over the Rhone" by Vincent van Gogh is a famous painting that captures the beauty of nighttime Arles. Van Gogh painted this piece on the bank of the river and within a short walk of his rental home. It is one of the most famous paintings of all time, and has a special place in the history of art. However, many people are unaware of its unique story.
Van Gogh's work is often associated with dark themes, but this less well-known painting remains an important part of his body of work. Unlike the famous "Starry Night," this painting has a very peaceful subject matter and a distinctive approach to painting night scenes. It is also a great example of his distinctive style of painting night effects, which he developed during his time in the south. The painting captures a rare moment of calm in his hectic final years.
While many works by Vincent van Gogh depict a starry sky, Starry Night Over the Rhone shows human forms. The painting also shows gas lights in Arles, which added to its grandeur. Despite the lack of human forms, the viewer still feels as if he or she is gazing at the stars. The paintings lack warmth and inviting warmth, but the painting has an unmistakable aura of beauty.
The Boulevard Montmartre at Night by Pissarro
The Boulevard Montmartre at Night by Camille Pissarro is a work of art depicting the bustling nightlife of Paris. Pissarro painted thirteen views of the same scene from different viewpoints, at different hours of the day. The artist was able to capture the bustling movement of this area from his lofty window in the Hotel de Russie. It is difficult to determine which is the best view of the Boulevard Montmartre, as Pissarro painted it at different times of the day.
Camille Pissarro's work demonstrates a sensitivity to light. While focusing on light, Pissarro is also interested in the effect of weather and light on objects. In The Boulevard Montmartre at Night by Pissarro, there are three distinct sources of artificial light in the city. Gas lamps are an orange/burnt yellow hue, oil lamps are pale blue, and newly erected streetlamps are white-toned electric lights with a faint blue aura.
River View By Moonlight by Aert van der Neer
The painting River View By Moonlight by Aert Van der Neer is a striking example of nocturnal landscape paintings. The Dutch landscape painters of the 1600s often depicted cloud-filled blue skies, but Van der Neer managed to master nocturnal scenes. The painting is characterized by the moonlight shining on the water's surface and highlighting the outlines of reeds and trees. Two small figures, seemingly posing for portraits, are also highlighted by the moonlight.
Although the picture may be from the seventeenth century, it represents a picturesque landscape that dates back to 1630. Van der Neer's painting displays the typical moonlit landscape of Amsterdam. The painting shows a muddy track, dotted with houses and populated by two waggoners who are bothered by dogs on their way home. The river is serene and peaceful, with fishing boats taking advantage of the moonlight. Sailing boats, meanwhile, are delayed by the lack of wind.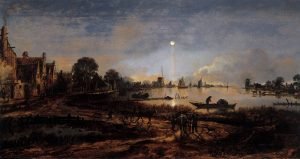 Cafe Terrace at Night by Vincent van Gogh
The 1888 oil painting Cafe Terrace at Night by Vincent van Goghe, known as The Café on the Place du Forum, was first shown in 1891 as Coffeehouse in the evening. The Café's name is a play on the words "Café en terrasse". The Cafe was a typical Paris cafe where people would sit outside in the evening and talk to friends and neighbors. Vincent van Gogh had spent his early days painting landscapes and still lifes and was interested in the way people interacted with one another. He was a masterful painter, and this is a painting that captures these emotions.
The artist's passion for color and his love of the light make the Cafe Terrace at Night one of his most famous paintings. The artist described color in his letters as "like arranging jewels" and was fascinated by the resulting effect. His use of brilliant color and his ability to make his work respond to the audience's emotions were crucial to his success. If you would like to see his work in person, then Cafe Terrace at Night by Vincent van Gogh is worth seeing.
Road with Cypress and Star by Vincent van Gogh
Road with Cypress and Star by Vincent van Godh was painted in 1890. The artist spent most of his life in Provence, where he was surrounded by landscapes full of cypress trees and sunflowers. This nocturnal scene was often depicted in his paintings. Van Gogh placed hope in this landscape, and it is reflected in this breathtaking landscape painting.
This piece of art, Road with Cypress and Star by Vincent van Godh, is one of Van Gogh's most famous paintings. The Dutch Post-Impressionist artist painted this famous work in 1890. The painting is not an actual landscape scene, but rather a series of symbols meant to express his feelings and experiences at that time. The large cypress tree in the center acts like a giant obelisk and divides the canvas. Among the other symbols in this painting are the stars and the thin crescent moon.
Moonlight by Winslow Homer
Moonlight by Winslow Homer is one of the most important paintings by this American artist. It is a powerfully atmospheric depiction of the sea. It was painted in 1875 when Homer was fifty-three years old. He was a hermit with a brush, and his paintings were considered to be among the strongest and most original of American painters. However, his work never achieved the level of popularity that portraits and traditional Salon pictures enjoyed. Many of his works were never sold, but the one that did, "Undertow," was still a great success and earned the artist $400.
Although Moonlight is considered a landscape painting, the subject matter is very different from the usual scenes. In this case, the subject matter is a couple strolling along a pier by the sea. The pier is dark on the left side, whereas the sea reflects the white moonlight on the shore. A wave crashing on the shore creates a bubbly splash. The sky is blue-grey, and holds long, thin clouds that form an angle with the horizon. Homer used a realistic brushstroke to achieve this effect.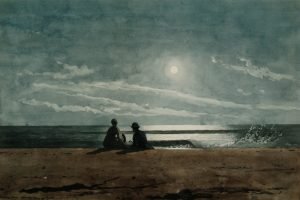 Moonlit Shipwreck at Sea by Thomas Moran
The ocean is a common subject for seascape oil paintings. Artist Thomas Moran was inspired by the paintings of J. W. M. Turner and he reflected his influences in his work by making use of light and modulated colors in his palette and expressive brushwork. Moonlit Shipwreck at Sea is a fine example of the romanticism in visual art. A private collector owns this painting and it is a great addition to his collection.
Although most people know Thomas Moran for his landscape paintings, his talent extended beyond the natural vistas. In 1901, his painting sold for over a million dollars. Moonlit Shipwreck at Sea by Thomas Moran has a special place in the collection of art collectors, and it is worth your time and money to get one today. But how does Moran's art differ from his landscape paintings?