Before framing an oil painting on board, you should know how to properly hang it. First, you should make sure that it does not fit tightly. You can remove the wire if needed, or bend back the picture hanging points so that the painting can be lifted out of the frame. After removing the wire, place the new painting inside the frame and press the edges back together to secure the artwork. Now, you can begin framing your masterpiece.
To begin, you should prepare your painting. Unpack the picture frame from the backing. Lay the painting onto the acid-free paper. It can be butcher paper or a large sheet of standard paper. The acid-free paper will protect your painting from moisture, dust, and insects. Cut the acid-free papers at an angle, if needed. Fold the pieces of cardboard so that they fit the interior opening of the frame.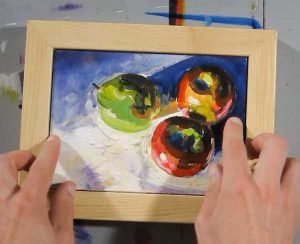 When you're done with your painting, you're ready to choose a frame. Many framing stores will provide flexible points for you to install. Use a fingertip to press these points into the cardboard. If you're installing the points yourself, take care to install them as perpendicular to the back of the painting. Be sure to use a putty knife to secure them firmly.