David Hockney is an English painter, printmaker, stage designer, and photographer. He is considered one of the most influential British artists of the 20th century. His work focuses on pop culture and portraiture. His paintings are popular with collectors, and many of his works are part of private collections.
Below is a list of 10 most famous David Hockney paintings.
Portrait of an Artist
David Hockney's portrait of an artist is one of his most iconic paintings. It is a large acrylic-on-canvas pop art painting completed in May 1972. It depicts two figures – one who is swimming underwater and looking up at the other, and another who is staring down at him.
In the show catalog, curator Ian Alteveer singles out the painting, which marks a change in Hockney's portrayal of water. Moreover, this painting marks the "culmination" of Hockney's series of double portraits. While many critics point out that this painting is not of the artist himself, there are those who suggest that Hockney is in the painting, symbolically enacting his presence in the form of a swimming pool.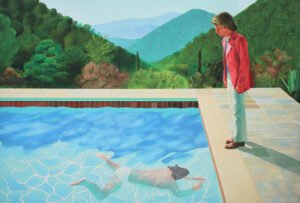 The Splash 1966
David Hockney's 1966 pop art painting, The Splash, features a swimming pool surrounded by a pavilion and an unknown figure splashing water into the pool. The image evokes an idyllic summer holiday and is a classic example of pop art. Although it is arguably Hockney's most famous work, many of his other works are equally striking.
The painting is inspired by the cover of a technical manual for swimming pools published in 1959. This image influenced the basic compositional principles Hockney applied to his work. Art historian Martin Hammer has described the genesis of the painting in his book A Bigger Splash.
Man in Shower in Beverly Hills 1964
David Hockney painted Man in Shower in Beverly Hills 1964, a painting that features moving water, a curtain, and homoerotic imagery. Inspired by a photograph taken by the Athletic Model Guild, which specialized in male nudes, the painting features a bare-chested male in the shower. The painting is notable for its subtle flattening of forms and its disregard for linear perspective and proportion.
Model with Unfinished Self-Portrait 1977
This painting features magnificent colours and a brilliant command of perspective.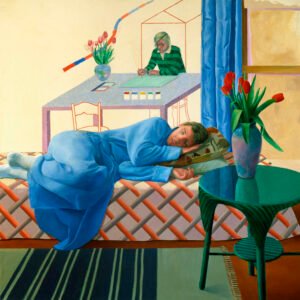 Nichols Canyon 1980
Among Hockney's most famous works, Nichols Canyon is a vivid, multicolored landscape. The artist's signature style draws the viewer in with its intensity of bright colors. It's reminiscent of his Fauvism style, which is characterized by a unified palette and use of vibrant colours. The painting depicts the physical Nichols Canyon, a canyon in the Hollywood Hills that slopes down to Mulholland Drive. It features small brooks and a real waterfall.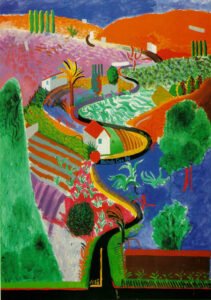 Pearblossom Hwy 11-18th April 1986
David Hockney was fascinated by the road trip through the Antelope Valley, and he decided to create a meaningful interpretation of the scenery. He created the piece using over 700 mounted photographs. He remained hesitant to part with the piece for years, but after new plans were announced for the Getty Museum, he was enticed to sell it. In 1989, the piece was sold for $2.2 million USD.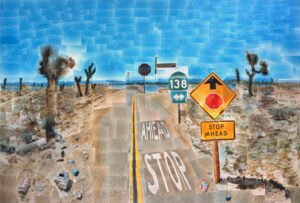 American Collectors
Marcia and Fred Weisman are two American Collectors of David Hockney paintings. They began collecting Hockney in the 1940s and continued collecting until their divorce in 1991. Marcia Weisman donated her paintings to the Museum of Contemporary Art in Los Angeles. Fred Weisman also donated many of his paintings to various museums, including the Whitney Museum.
Garden 2015
The new series of works by David Hockney, titled "Garden with Blue Terrace", began with a painting of the deck outside Hockney's living room. The artist painted the work on an iPad and oversaw its production. The work reflects the artist's personal experience.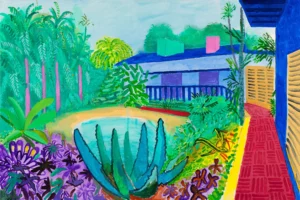 Self Portrait with Red Braces 2003
Self Portrait with Red Braces by David Huckney is a small art that shows a self-portrait with red braces. The artist created this work in 2003. In this piece, the artist bends down in front of a canvas to paint himself. He is wearing red overalls as his "braces". In this piece, the painter aims to reflect real life in terms of its basic color choices and comedic undertones.
Mr and Mrs Clark and Percy 1971
Mr and Mrs Clark and Percy 1971 is one of the most famous paintings by David Hockney. This famous portrait was inspired by the real-life love story of Ossie Clark and his wife, Cecilia Birtwell. The two were married in 1969 and Hockney attended the wedding to paint this iconic portrait.
This work is famous for its sensitivity towards details. Hockney's style is close to naturalism and his paintings are often painted in multiple sessions. He used large, flat canvases and often painted them indoors. He also used a studio light to simulate the light conditions in the home.