Under the wave off kanagawa meaning
'Under The Wave off Kanagawa' by Hokusai has gained huge popularity among world famous artworks by the name 'The Great Wave'. It is considered as most awesome artwork in the Japanese iconic art galleries. This image reflects the power of the ocean with its two-dimensional features and leads a mesmerizing impression on viewer's eyes. However, you might have heard so many interesting things about this impressive masterpiece of the 19th century; here we are going to talk about some of its hidden features that very few people have recognized till now.
How was The Great Wave off Kanagawa created?
Although this painting is named after a giant wave created by the artist in this artwork; there is a hidden mountain as well. If you look at the center of this picture, you will find the snow-capped Mount Fuji hidden behind this cresting wave. It is actually the highest peak of Japan. This mountain is made tiny by some purpose; artist in this painting has shown that the cresting wave has swallowed the big mountain. Also, the crashing wave in this painting appears like snow from its tips is falling on the mountain. Hokusai was a great artist and he developed many ultimate artworks during his lifetime between 1603 and 1868. But the most popular creation of this memorable artist was under the wave off kanagawa print. Let us make it clear that it is not a painting in actual; rather it is a series of 36 unique views of Mount Fuji. Each one of them is designed with compelling colors and artist has utilized space very well to show the peak from different angles. Millions of prints of this awesome artwork were sold at cheap prices in Japan to attract more people towards the awesome tourism destination of Japan.
You will be impressed to know that Hokusai started painting by the age of 6 and he created several masterpieces throughout his career. He was well recognized as a young growing artist of Japan in that era for his iconic artwork. Another impressive artwork of this artist was known as the dream of fisherman's wife. It is believed that The Great Wave off Kanagawa was created by Hokusai somewhere between 1829 and 1832. Japan at that time was not doing trading with nations around the world except Korea and China. So it strictly controlled the flow of artwork out of the country and The Great Wave off Kanagawa was not accessible outside. However, after 30 years Japan opened its ports for export to other nations as well and this awesome artwork gained popularity worldwide.
One unique thing to know about this painting is that it is dually signed by the artist. If you observe the upper left corner of the painting closely, you will find a box with some writing inside. In this box, the artist has written the name of this masterpiece "Thirty-Six Views of Mount Fuji" series. And then to the left of this box, the artist added another note as about his changed named that was Iitsu. Note that Hokusai has changed his name around 30 times during his artistic career and today those names indicate his different artworks.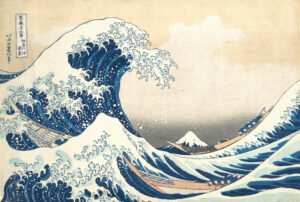 Where is the great wave off kanagawa located?
The original prints of The Great Wave off Kanagawa exist in some of the world's best museums, including the Metropolitan Museum of Art.
How much is the great wave off Kanagawa worth?
It's estimated at US$51,500-77,500 at at Sotheby's Hong Kong Gallery
>> Order museum quality oil painting reproduction of Great Wave off Kanagawa.