How many van gogh paintings are missing?
In total, 85 Van Gogh paintings have been missing for more than fifty years. Five of them are related to the Second World War, while the other two are unrelated. One of them was stolen during a raid on the Van Gogh Museum in The Hague, and the other was stolen in the same attack. Despite these thefts, the paintings remain valuable and are worth over $100 million. They do not even count as Van-Gogh's best known works.
Until now, there was no way to find out the whereabouts of the missing Van Gogh paintings. But that has changed. After an intensive search by museum conservators, two of these masterpieces were finally found. The painting with the missing paint is called "Starry Night" and depicts a church in Nuenen, Netherlands. In addition, a piece of the painting's signature was also missing. While it's not known whether Van Gogh wrote his signature or not, the museum says it is still a Van-Gogh.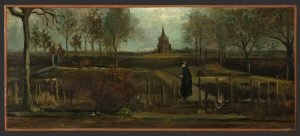 The painting is a square panorama of the Auvers valley, a mosaic of wheat fields. It has the label of Jonas Netter, an influential collector in the early twentieth century who discovered many artists, including Amedeo Modigliani. If discovered, the 36-inch-by-36-inch painting would be the largest van-Gogh painting. If it has been stolen, the thief cut the painting out of the frame and walked out.
Lost Van Gogh Painting Found in Attic
The Van Gogh Museum has announced that they have discovered a new painting by the artist. The art work, which has long been thought to have disappeared, was discovered in an attic. The museum will display the painting from Sept. 24. The true identity of the unknown Van Gogh has not been disclosed. The painting was bought by a Norwegian collector, who was told that it was not a Van Ghoul. He put it in the attic and never looked back.
The painting was first purchased by a Norwegian industrialist in 1908 and was deemed fake by the French ambassador. It was banished to the attic and was eventually bought by an art dealer who thought it was a fake Van Gogh and a lesser known German artist. In 1991, it was sold to a collector who didn't want to share the details of the story. The museum will not say who bought the painting, but did confirm that it was a Van Gogh.
The painting was found in an attic in Norway. Its discovery prompted the museum to try and authenticate the work. Experts at the museum traced the painting's history and have determined that it belongs to an anonymous private collector. The discovery of the lost Van Gogh painting is a once in a lifetime experience for the entire art world, and the discovery of the unknown van Gogh is something to celebrate.