The first two things that come to our mind with the mention of a ship painting are its transparent display of class and impeccable fusion of splendor and simplicity. Having some of these paintings in your newly designed modern home will not only be a cost-effective option for chic décor but also tinge every corner of your home with the inherent charm that accompanies the portrait. If you are looking for a few reasons to finally make up your mind to get a collection of ship paintings for your recent home, then in the section below, we will be providing you with some.
Your home gets a vintage touch
Everything that we consider to be "perfect" in this world has been created by harmoniously intermixing two distinct qualities. Similarly, if your house is made according to the designs of modern architecture and has been implemented with the appliances that are operated by the latest technology then, hanging a few ship paintings on some of the walls in the house will provide a vintage touch that had so long been missing. Everyone will duly agree with us on the point that modern art is not wholly concerned with contemporary designs and ideas, most artists strive to portray art that has a glaring influence of the conventional but is showered with current tools to develop on them. Similar is the role of ship paintings in a modern house; the grandeur and majesty of a classic ship are sure to brighten every corner of your house.
Can be arranged according to themes
The subject displayed in a ship painting is something that doesn't depend on its size or frame to determine its value; they can be painted on any dimension of the canvas and will yet graciously uphold their worth. Therefore, the ship paintings here are providing you with a scope to capitalize on this factor and look for different colors and sizes that would complement the different themes and shades in each room. For instance, you can hang a massive ship painting on any of the walls in your living room and when illuminated with enough lights, it will alone be sufficient to echo the appeal of the whole space. For the bedroom or kids' room, you can have a collection of a few smaller frames that will display the journey of the ship from one end of the shore to the other and the changes in nature accompanying it.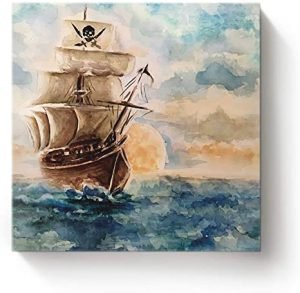 Its significance in Feng-Shui
According to the laws of Feng Shui, the painting of a ship stands as a universal symbol of wealth and prosperity that is brought about in abundance by the winds and waves of waters. Therefore, placing a feng shui painting somewhere in your home is believed to bring about swollen success, good luck, and the welfare of the house and organization that your family is associated within the near future. To enhance the power of this painting, you can select the ones that depict a lot of other materials like ingots, coins, crystals, and cures being carried by ship. Now that we are talking about the significance of ship paintings in Feng-Shui, it is also a part of our duty to inform about its proper placement; this painting can be placed either in the money area, wealth star area or the lucky direction of your home, if you haven't confirmed these spots of the house, you can temporarily hang them with their face turned towards the interior of the house so that all the wealth and abundance is directed this way.