If you are looking for creative picture hanging ideas, you have come to the right place. We've got creative picture hanging ideas for your wall, from installing a picture ledge to framing something wildly different. If you'd like to create a gallery wall, there are many ways to decorate with pictures. And since we're talking about art, we'll also cover some of the most common ways to hang them.
Install a Picture Ledge
The use of a picture ledge can be a great way to spice up your decor. You can choose different-length pieces to match the existing color scheme in your room or use contrasting colors to highlight the color blocking. A picture ledge is also a great place to display personal objects, such as books, candles, or vinyl records. This versatile piece of furniture is easy to clean and can hold a lot more pictures than a regular picture frame.
When installing a picture ledge, you should place it at a height that is equal to or higher than the top of the floor. A good place to hang a picture is at eye level – approximately four to five feet off the floor. Then, use a decorative knob to secure the picture ledge to the wall. This way, your pictures and artwork will be more secure and will not fall.
Hang a Huge Artwork
When you have a large canvas art, there are many creative picture hanging ideas. Consider hanging a canvas print at the head of your bed or over your couch. It may be a great way to show off a favorite picture without requiring drilling holes in the wall. You can hang the entire art without a frame by following certain design rules. These rules apply to any image or frame, and can help your new portrait stand out in your home. In addition to canvas art, you can also buy medium and small pieces of canvas and assemble them into a larger design. You can also hang the smaller pieces individually throughout the room. Whether you want to frame your canvas is up to you.
You can also use tissue paper to trace your canvas art on the wall. Make sure you have a clear spot for the canvas before hanging it. It is recommended that you use the midpoint of the canvas at about 56 to 60 inches from the ground. Similarly, you can hang it at least 8 inches away from your furniture, if possible. To hang it on the wall, you need to measure the height of your wall and the height of the furniture. Check out rules for hanging pictures.
Create a Gallery Wall
To make your gallery wall a success, consider using old movie posters, calendars, and illustrations. Use creative picture hanging ideas and space them correctly. Remember that balance is key. Start with your largest piece and then space the others evenly. For best results, hang them about one-fourth of an inch apart. Make sure that the overall pattern is balanced with other furniture and centered in the room. It will look even better when you're finished!
Choose a theme for your gallery. If you're going for a more traditional look, pick a theme or use the same color palette throughout. You can also tie the gallery together by using frames with the same color and style. Stick to one color scheme if your room is busy, but use a variety of colors for the more eclectic look. Add personal effects to make your gallery wall stand out.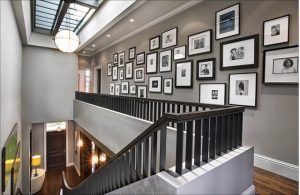 Use Unique Frames
When selecting a frame for a picture, you can create a gallery look by mixing and matching several styles. Choosing the right frame to display your photo can be tricky, and it can be very difficult to find identical styles in various sizes. Instead of purchasing a single frame, use the frames you already own to create a unique gallery wall. It is important to remember that you do not need to frame each picture; you can simply hang them from wires and clip them together. For a more dramatic effect, hang several pictures on the same ledge, making sure to space them evenly.
Adding a hanging picture frame brings the "hang" of your photo. It's also a great idea to buy some unusual frames with hangers. You can also mix and match different sizes of frames and use several hangers in order to create a variety of styles. Creating a variety of sizes and colors will create a unique gallery-style look. For more ideas, visit The Life Of A Cheap Chickadee for great home decorating ideas and craft tutorials.
Use Print Hangers
You can use different types of hanging methods to display your prints. One option is using small velcro dots. These small velcro dots attach the print to the wall without requiring any holes. This type of hanger is great for displaying pictures without compromising on style. The downside is that you may have to use more than one hanger to hang your prints. But if you don't mind having several different types of hangers in your home, this is an inexpensive and creative way to display your art.
Another option is to use clothespins. This style of hanger is suitable for larger print sizes. It allows you to hang even the largest prints without compromising the overall look of the room. You can even use a clothespin to hang a large print if you don't have the time to make it yourself. However, if you don't want to make a mess, you can buy pre-made hangers online or in stores.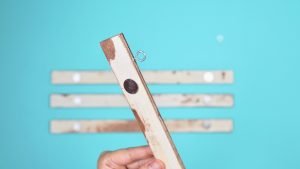 Displaying Art without Frames
The trend toward displaying art without frames is catching on with many people. While this trend is rooted in minimalism, it is also common in eclectic, modern spaces. You can add subtle accents to your photos by skipping the frame entirely. Alternatively, you can choose a more elaborate project by opting for a shaped, frameless glass. You can even use string lights instead of standard strings to add a playful touch.
Once you have decided to hang your art, you should measure the area where it is going to be displayed. If you're hanging a single piece, you should make two hooks, one on either side of the picture, so that it won't hang off the wall. If you're hanging several pieces, you can make a paper template and stick it to the wall with masking tape. This will help you determine how big the frames should be.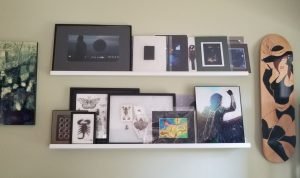 Create a Grid Gallery Wall
When you want to hang up creative picture hanging ideas, you need a place to display them. A grid gallery works well for a number of reasons. First of all, it keeps everything organized. Then, you can see all of your images at one glance. You can use this technique to display pictures that have multiple sizes and shapes. Secondly, it gives you more options when it comes to hanging your pictures. Lastly, it makes your photos look more impressive.
Creating a grid within a gallery wall is much like creating a gallery wall in your home. The grid can bring everything together and look pulled together. A gallery wall can be a great way to display your favorite pictures and make a statement. You can use different styles and colors to decorate your gallery wall. Here are some ideas to get you started. When creating a grid for your gallery wall, remember to consider your theme. You can create a heart-shaped gallery wall if you're showing off a collection of family photos.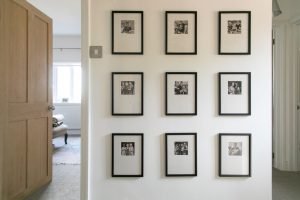 Choose Colored Matting
There are many color schemes to consider when choosing mats for your artwork. You can choose a color to compliment the artwork, or choose one that doesn't emphasize it. Neutral mats can add a touch of sophistication to your room. If you want to go neutral, choose a light colored mat. If you prefer a darker color, choose a matte in a neutral hue. However, if you're decorating a neutral room, you can opt for a darker colored one.
When choosing a colored mat for your artwork, keep in mind the color scheme of the room you are decorating. The color of the mat must complement the main color of the artwork, as this will draw the eye to the most important segments of the image. You may also consider using a double mat, which adds more personality to the artwork. You should consider the tone of the inner mat as it is usually lighter or darker than the outer one.