Art reproductions are popular in wall decor. It's an affordable way to hang favorite art in home or office. Hand-painted custom oil painting reproductions are much more appealing and visually satisfying than prints or posters.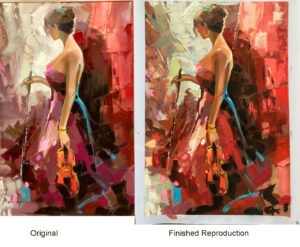 How to order custom oil painting reproductions?
1. Have an idea of what you need.
This is the first thing you need to do. Find out the size and artwork you need. Try to find a high resolution image of the artwork you want it to be reproduced. Can be from online, digital photo, prints…
If you want the best painting reproduction, order it from the best oil painting reproduction company. This step is very important which can save you lots of time on revision, communication…
If you don't want to wast time on the supplier research, an easy way is just use my cooperating art supplier here.
3. Contact the supplier
Send them an email about your requirements and ask for quote, such as the quality level, size and frame option.
4. Place the order if you are ok with their price.
5. Check and approve the painting.
Ask the supplier to send you photo of finished oil painting reproduction for approval before shipping. You can reject the painting if you are not happy with it. Or, ask them to revise until you are 100% satisfied with the final art reproduction.