Many of you might have a question in your mind, why many women are preserved on the canvas in the form of unique artwork? Well, there are plenty of reasons behind this, but the most important one is that women always have an untold history behind their life; the story of struggle, restrictions and loads of expectations that world has from them. There are so many interesting things to talk about the life of a woman, and some creative artists have chosen canvas painting ideas to express the beauty of a woman.
Paintings of women express lots of impressive and catchy things. If you connect to the deepest emotions hidden behind them, they will open up several secrets of her life. If you want to add real beauty and creativity to the walls of your living room or bedroom, we advise you to buy oil painting reproductions of famous paintings. However, if you are a little confused about which one to select, below we have highlighted details about some of the most popular women paintings to ease your buying decision:
Whistler's Mother by Whistler
This oil-on-canvas painting was created in the year 1871 by a famous artists James McNeill Whistler. Although it is finished with a unique arrangement of Grey and Black; it leaves the ultimate impression and describe the stunning beauty of women on the canvas, mother of the artist. Women of that era used to play several roles in large families with typical culture and traditions. Many artists celebrated those roles in their canvas. However, Whistler chooses a unique idea for the painting of his mother. This painting depicts the ultimate masterpiece in the field of art.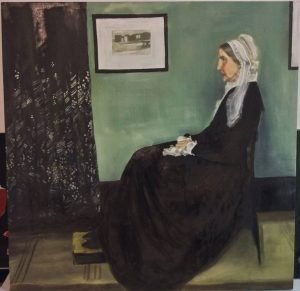 The Mona Lisa By Da Vinci
When we are talking about famous women paintings, how can we forget to talk about this amazing masterpiece from Leonardo da Vinci? This painting of Mona Lisa was created in 1502, and the artist took this painting from Italy to France in the year 1516 when it was purchased by the King Francios I. This portrait shows the beautiful smile of an unknown women Madonna Lisa or Mona Lisa. This painting is famous worldwide for the mysterious smile of the women. It is one of the most popular masterpieces of many famous artworks of Leonardo da Vinci.
Girl in a Chemise by Pablo Picasso
This painting was created by Pablo Picasso in circa 1905. This famous artwork actually shows a thing, a young girl who appears to be ill. The artists barely covered her body with a thin cloth that reveals her unhealthy appearance. This painting was designed using oil on the canvas, and it gained huge popularity around the world for the unique theme and impressions. It is rated high for the perfect combination of abstract modern art and cubism in the canvas.
There are many such paintings of women created by legendary artists. You can check the latest collections online and pick the most beautiful painting for your living room. Prefer to create a perfect combination with your existing interior décor so that it can capture the attention of all viewers.
Girl with a Pearl Earring by Vermmer
Johannes Vermeer's oil painting titled Girl with a Pearl Earring was first painted around 1665. The painting has been known by many other names over the years, but it only became famous by the title it has today. Pearl Earring refers to the pearl earring worn by the girl in the painting. The painting is now a popular art museum piece, and is also available for purchase.
The painting is a delightfully simple image. The girl's head is positioned just over the shoulder of the viewer. There is no hint of the pearl's setting, so it is difficult to tell when the painting was created. Despite its simple composition, the painting is atmospherically dark, and the subject-observer contact is unusually close. The girl wears a brownish-yellow top and a bright white collar.
Olympia by Manet
The painting Olympia by Edouard Manet is considered one of the most controversial works of art. It depicts a full-figured woman lying on a chaise longue and receiving a bouquet of flowers. While many artists would prefer to depict mythological and Biblical scenes, Manet opted to portray modern life in an expressionistic manner. With this style of painting, he paved the way for modernism. The subject of the painting is a French prostitute.
The painting Olympia by Edouard Manet is a classic example of impressionist art. It was completed in 1865, but did not receive its debut at the Paris Salon until a year later. Manet feared the reaction of the French public to such a controversial painting and therefore did not exhibit it until 1890. As a result, Olympia by Manet became one of the most scandalous paintings to be exhibited in Paris in the 1890s.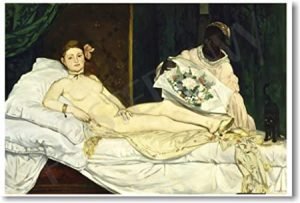 Portrait of Adele Bloch-Bauer I by Klimt
This painting by Gustav Klimt is one of the most famous examples of his Gold Period. The painting was completed in 1907, and is housed in the Neue Art Gallery in New York. The portrait is one of the most expensive paintings in the world. It was painted with oil on canvas and decorated with gold, silver, and gesso. Klimt also used techniques derived from Byzantine mosaic.
The artist was drawn to Adele because of her beauty and the way she portrayed herself. She was three years into her marriage to Ferdinand Bloch-Bauer, and she exuded a romantic air. Klimt was impressed with her knowledge of French, German, and English literature. Adele had been unhappy most of her life, and the death of her elder brother only fueled the fire. Nonetheless, after her marriage to Ferdinand, she enjoyed peace and quiet.