The relationship between art and interior design is an intricate one, with many different aspects to take into account. The scale of the artwork, the style of the painting, and the subject matter are all important. Any work of fine art will enhance any interior scheme, and will be a great way to personalise a space. Ultimately, the relationship between art and interior design should be an extension of both styles, and not clash.
Although the two fields are separate, there are some similarities between the two disciplines. The former draws on many forms of art and explores various stages and concepts in creation. Modern art has often been influenced by the latest design trends, while the latter takes its inspiration from traditional styles. This connection is particularly strong when the artist uses their own imaginations to create the interiors of a place. For example, painting and sculpting often double as decor.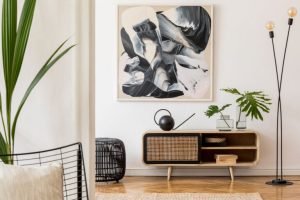 In addition to influencing the design process, art is an expressive medium. It can express feelings and tell stories, and designers use this to their benefit. The relationship between art and interior design is close, and the boundaries between these two disciplines are blurring every day. However, there are some key distinctions to be made. Some examples are as follows: sculptures, paintings, and furniture are all examples of art that can be adapted to an interior design style.