If you're wondering how to hang wall art evenly, start by laying out the pieces of artwork. If the room is large enough, lay the pieces on the floor or up against a wall. Use a tape measure to adjust the spacing. You don't have to hang everything evenly, but try not to create "rivers" of space. A carpenter's level is a valuable tool for this process. It allows you to see how even your work is before you attach the hardware to the wall.
Secondly, hang your pieces of artwork in a single row. If you're hanging three pictures in a row, hang one line of painter's tape across the wall. If you're hanging four pictures in a row, leave the same distance between them. If you're hanging large pieces of artwork, space them about two inches apart, and so on. If you're hanging smaller pieces of art on the same wall, you can space them about an inch or so apart.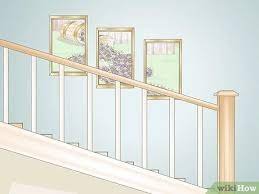 If you're hanging small framed works of art, you can measure and trace the artwork's position. Next, cut it out, and tape it to the wall. Be sure that the edges of the frame are aligned with the top line of the tape, and then readjust accordingly. To determine nail placement, you can use toothpaste. Then, measure the space between the frame and the wall, then mark where it is positioned. Then, use a pencil to make a pencil mark.