Are you planning to add unique and catchy décor elements to your new home? Well, the market is loaded with many impressive options that can make your living room and bedroom look amazing. However, beginners often get confused about where to invest.
No matter what kind of interior décor you have followed, some attractive oil paintings and modern art collections will always add beauty to the walls. We advise you to buy some Indian Paintings for living room They are not just affordable; these paintings look creative and innovative as well. They can create a perfect combination with every type of interior décor and leave a long-lasting impact on the premises.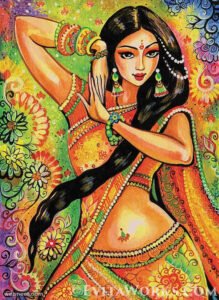 If you are a little confused about whether to invest in Indian paintings for home or not, we advise you to go through the details below. Here we have listed the potential reasons to bring such artworks to your home:
The Ultimate Expressions on the Canvas:
The Indian paintings are known for their ability to connect heart and soul with the ultimate expression on the canvas. These paintings are the best way for artists to express their thoughts, ideas, hopes, individuality, and philosophies to the world. Once you bring such unique paintings to the home, you can fill up space with the emotions on the canvas. The motivational and inspiring Indian paintings can create a positive aura in your premises.
Indian Artworks are Tactile:
Original Indian artworks are designed with luscious texture; you cannot compare them with other random paintings. There is something special about the technique and style of these artists. They use a variety of media to add beauty to the art; buyers can always pick the perfect combinations of metal, paper, wood, and canvas. The textures of these paintings come with tangible quality, and it makes them an ultimate choice for every home.
Creating an Impressive Gallery:
If you are interested in installing artworks that depict tradition, culture, and mythology; it is good to pick some of the most attractive collections out of Indian canvas paintings. The experienced painters follow a variety of techniques to give a unique finish to every painting. You can pick some of the best patterns in small and large size to create an impressive art gallery in your living room. Indian artwork is always the best investment for traditional as well as modern home décor.
Indian Art Inspires and Encourages:
How can we forget to talk about this amazing element of Indian artwork? Those beautiful paintings work like the best source of encouragement and break the dullness in routine life. When you want some powerful artwork for your bedroom and living room that can inspire your inner self towards new hopes in life, the Indian Paintings on canvas can meet your needs in the best possible manner. Prefer to select your designs more carefully so that they can capture the attention of every visitors at your home.
Where to buy Indian paintings online?
My NO. 1 choice is Outpost Art if you want to buy famous indian paintings reproduction. Please check my reasons here: Who Makes The Best Oil Painting Reproductions?
It is time to go online and check some of the beautiful indian paintings collection. After comparing all available options, place an order for the best one.