When it comes to making a beautiful wall hanging, you have many options.
Wall Hanging Craft Ideas For Kids Using Cardboard
There are many wonderful wall hanging craft ideas for kids that you can make with cardboard. One of these is a flower. You can draw a pattern for the flower and cut out the shapes. Use blue tack to adhere the flowers to the wall. Test the tack on a hidden part of the wall before attaching the flowers. This project not only adds a fun and unique design to your walls, but it teaches recycling.
You can make a pyramid out of cardboard and use any colour you like to decorate home. You can even recycle empty tissue boxes. You can also use any shapes and sizes to decorate your wall. Once your cardboard art is dry, you can use 3M Command strips to hang it on the walls. The possibilities are endless! Try making some cardboard wall hanging crafts for kids! And remember: make sure to supervise your children when they are doing any cutting.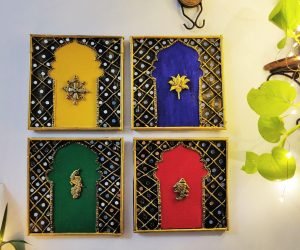 Wall Hanging Craft Ideas with Paper
Another great way to decorate your walls is to create a wall hanging from paper. The process is easy, and you can create a beautiful wall art piece for your home. Simply cut out the desired shape, use a craft paint pen, and decorate! Once your work is finished, hang it on the walls! You can even use 3M Command strips to attach the finished artwork to the wall. If you want to try out other paper wall hanging ideas, you can always experiment with your own creative ideas.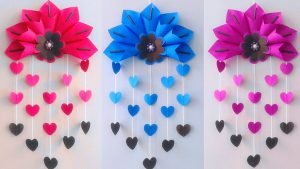 Wall Hanging Craft Ideas With Paper Flowers
You can make beautiful wall hangings with paper flowers. These flowers have a simple design and can be used to decorate greeting cards, gifts, and more. If you're a mother, your little girl will enjoy creating her own bouquet with these easy-to-make crafts. You can even teach her the anatomy of flowers. She'll also learn about the importance of making beautiful flowers and how to make them. If you want to learn more about flower making, you can use this craft to get some tips.
You can even try your hand at making a felt flower. This craft looks like it's difficult, but it's actually quite easy to create, especially for younger children. All you need is a few layers of felt, some buttons, and glue. Then, just attach the pieces together. If you're looking for a larger scale project, you can try the rainbow paper Dahlia. The larger scale version is a little more complicated, but it's still quite simple.
Wall Hanging Craft Ideas With Wool
There are many types of wall hanging craft ideas using wool. One of the most popular is the woven yarn hanging. This is simple to make and requires white yarn, some scissors, a wooden dowel, and a ruler. This project is great for beginners who want to learn the basics of weaving. Once they understand the basic concepts of weaving, they can start creating their own pieces. To create a woven wall hanging, first you will need to purchase a loom. Once you have one, you can begin by combining the different colors.
If you want to make a large wall hanging, you can use a loom and make it as long as you need. This project is also a great gift for someone who loves handicraft items. You can even give it as a gift to a loved one who appreciates beautiful handmade items. You can find several ways to create a woolen wall hanging.
Wall Hanging Craft Ideas With Wool Threads
There are many different types of wall hangings that you can make using wool threads. One option is a pom wall hanging, which is made by weaving contrasting yarn colors around a cardboard wreath form. It's also easy to add pom pols, mini tassels, or wood beads to finish the project.
You can make this craft in an evening, as long as you have two hours to spare. If you're looking for an easy project, you can try making fringe. This project involves two metal rings of different sizes and white yarn. You can use any color you like to make your tassels. The fringe hanging is another great choice and is easy to make.
This wall hanging can be made using different colored yarns, and you can even add decorative items. You can even use this craft on the sides of a door to hang on the door. You can also gift this craft to a friend who likes handicraft items. And remember that wool threads are cheap and easy to come by, so you can't go wrong. You'll find dozens of ways to decorate your walls with wool threads.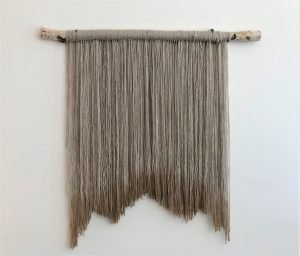 Wall Hanging Craft Ideas With CDs
CDs make for a wonderful canvas for your DIY wall hangings. By removing the foil from your CDs, you can create a background that is transparent and decorative. Next, you can use plastic paint to decorate your CDs. If you'd like to hang your creations on the walls, you can drill holes in them so you can hang them from a hook. If you don't have any hooks handy, you can also set the CDs in front of a window.
A CD can be shaped into many shapes. Try cutting a CD into two moon-shaped pieces and attaching them with a glue gun. Once you have the shape you want, apply gentle pressure to the ends of the string. Then, wrap the string around a wooden stick and secure it to the back of the CDs. Be sure that the V shape of the CD pieces matches the end of the string.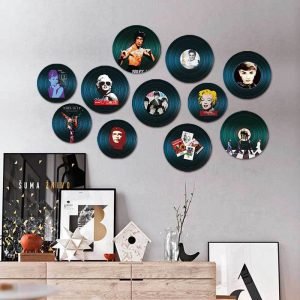 Wall Hanging Craft Ideas With Newspaper
Wall Hanging Craft Ideas With Newspaper are simple and eco-friendly. This craft can be made with recycled newspaper, which is a good thing for the environment. Shredded newspapers, unlike other materials, are not suitable for recycling, but can make a beautiful gift. Cut out a box shape from the newspaper, and then use a matching frame to hang the craft. Next, tape the paper on all three sides.
For this paper craft, punch holes and string thread through the holes. Choose a thick paper so that it will not be ripped by the air. Ensure that the paper is thick enough not to wrinkle, and then use mod podge to stick it to the poster board. Let it dry overnight, and then hang it up on the wall. You can even decorate the interior of your home with a paper hanging. Regardless of the project, you'll enjoy creating a unique and beautiful wall hanging that reflects your personality and your style.
Another newspaper craft idea is a paper chain. You can make this hanging by using a template to trace the heart shapes on different colored cardstock, then punch holes through them. It is best to use thick paper to prevent it from getting torn by air. Once you have your heart-shaped heart, you're ready to hang it on the wall! Alternatively, you can create a paper chain by using the same method as above, but you'll need a thicker paper. You can also cut the heart and other shapes from different colored pieces of newspaper.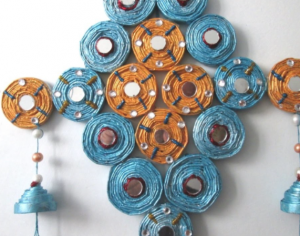 Wall Hanging Craft Ideas With Bangles
You can also use bangles to make beautiful patterns on a piece of cardboard. You can trace over the design with a pencil, then cut it out with a cutter or scissors. Once you have your pattern in place, you can then attach the bangles with glue. Your project will look fantastic! You can even use used bangles to create an eye-catching wall hanging. If you'd like to get creative, consider making a beautiful wall hanging that's both unique and useful.
You can use different types of materials for your handmade wall hanging. Leather and yarn are both excellent options for this purpose, and can even be used to create a custom design. The jute twine is particularly useful, because of its rugged texture, and you can mix and match various colors and patterns. You can also make a geometric pattern with gold foil sheets. Adding different colors will make your wall hanging stand out and be both eye-catching and functional.
For a more intricate version, you can weave your own wall hanging. You will need two colors of yarn, a wooden dowel, scissors, and a ruler. Once you've got your materials, you can start weaving and adding colors. To create your wall hanging, you can experiment with different types of yarn until you're satisfied with the finished product. You can also try combining different types of colored yarn for a more unique look.