Paintings and music are considered to be two major forms of high art and the result that is conceived when they both come together is unmatched. It is not unknown that every kind of painting has a unique tale to tell and in case of music paintings, the art speaks through the sound of its colors. Interesting right? It definitely is. The paintings that portray any object that is related to music or famous musicians or even abstract representations of melody are classified under music paintings. The primary object for the music paintings to fulfill is that the moment you look at it, you are reminded of some soothing tune that you take course to when you are willing to calm your mind and soul.
Producing music into paintings has been in trend since the Renaissance. 'The Marriage Feast at Cana' by Paolo Veronese, 'Capri' by John Singer Sargent, 'Violin and Guitar' by Juan Gris, 'The Flute Concert' by Adolph Von Menzel and 'The Music Lesson' by Lord Fredrick Leighton are some of the masterpieces in the gallery of Music Paintings. Now coming to the significance of this school of painting, it is meant for the people who like to nourish their aesthetic sense in both music and painting. Not every sound has to be sensed by the ears, not every kind of music is meant to be produced by instruments and singers, not every melody requires to be propagated through high-volume gadgets, and music paintings have rightly proven so. The play of colors on canvas produce music through their intersection with one another and that sound is for the eyes to listen and heart to sing. Moreover, music through painting makes way for multiple interpretations. For instance, if there is a guitar or a piano painted on a canvas, it can be interpreted in various ways depending on the perspective of the viewer. To some music is an escape from daily humdrum and to others it is their only source of sustenance.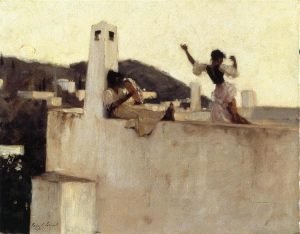 Music paintings are swiftly gaining popularity because of its universal appeal; they reach out to a large number of audiences with its showcasing of unique ideas and bringing together multiple themes into a single frame. Choosing one of these pieces to decorate your wall will grant its surroundings with a whole new caliber. In addition, the perfect frame for the music paintings can be of any size. On one hand, it can be of the size of a notebook with a music instrument or notes shown on it, while on the other hand, it can take up the majority of your wall while portraying a whole crowd making merry along the tunes of their favorite song or a musician engaged with practicing his art in isolation. Music has no origin, no destination, it is in a constant state of flow, you can never assign it with a specific spot for its confinement; likewise, music paintings too can be put up anywhere, be it your bedroom, the study, or even the dining hall making it the most versatile piece of art that one can have in possession.