If you are thinking about commissioning a piece of artwork, there are some things to consider. First, you should decide what style you want. Once you've decided on a style, you can choose an artist who specializes in that type of artwork. You can also contact artists through email. Most artists will be happy to discuss your ideas and provide an estimate. However, if you are not sure what you want, it may be helpful to ask for a preview before the painting begins.
A contract should be in place before the art is started. It should clearly outline the price, any additional expenses, and payment terms. Many artists will require a 50% deposit or some other form of upfront payment. The contract should also set a deadline and agreement for when the work will be completed, including approval process. It should also clearly outline the rights of the artist to the work and the materials used to complete the project. The contract should include your expectations and the artist's vision of how the piece will look like when it is completed.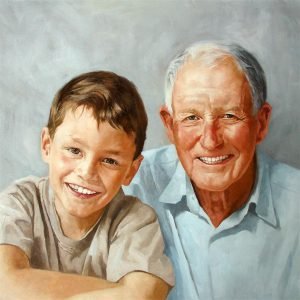 When you commission an oil painting, you should create a contract. It will outline how much does a portrait painting cost, the date it will be completed, and other details. Some artists use a simple contract that's signed, but this can be hit and miss. Others will use a more comprehensive contract that outlines several steps of the project and addresses any possible misunderstandings. But regardless of your preference, a contract will protect you and the artist.
How to Commission a Portrait Painting
When commissioning a portrait painting, it's important to know the right steps to follow to get the best result. While 80% of paintings for sale are not worth your money, a trained eye can recognize a good portrait within five seconds. If you're not familiar with the fine art process, there are some tips that can help you spot a good artist. Generally, when buying original art, look at the composition, size, and other factors.
When selecting a portrait artist, it's important to choose someone with a reputation for high-quality work. You want to commission a painting that reflects your personality. In addition, you'll want to pick an artist whose work you admire and can view their portfolio. Before selecting a portrait artist, discuss the details with the artists to determine their price range. The price should be inclusive of expenses and the artist's fee.
A reputable artist will ask you for specific specifications before starting work. You may be able to provide a photograph to the artist to use as a reference. Other artists prefer to have you sit for the portrait in their studio, which will help them create a great work of art. Also, when choosing a portrait artist, take into account the time frame, setting, and budget. A professional will always work in his or her signature style.
For portrait commission, i recommend Paint My Photos. They are one of the best in custom portraits from photos with 100% satisfaction and money back guarantee.