This article highlight some of the most famous Victorian artists. They depict beautiful women, romantic subjects, and iconic settings. In addition to portraits, some of them also influenced modern artists.
Frederic Leighton
Having studied at the Royal Academy of Arts in London, Frederic Leighton began painting in 1861. In the following years, he was affiliated with the Pre-Raphaelite movement, exhibiting his work in London's Royal Academy of Arts. He became an associate in 1864 and President in 1878. The first sculpture by a British artist in 20 years, Athlete Wrestling With a Python, was considered the beginning of contemporary British sculptural art, and an American art critic remarked that Leighton's work could rival the frescoed figures of the Kensington Museum archway. In 1900, Leighton's paintings represented Britain at the great Paris Exhibition.
Despite being a very prolific painter, Frederic Leighton did not consider himself a great painter. Rather, he was incredibly intelligent, despite his self-deprecating attitude. While most Victorian scholars regard his work as unworthy, he did produce a number of works that are now considered masterpieces by Victorian art critics. His most famous painting, Flaming June, is one of the most recognizable images of the Victorian era. Although this image may seem unimportant to modern viewers, it is the work of Leighton that has most impressed viewers.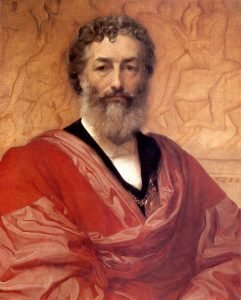 William Holman Hunt
Hunt was one of the most influential Victorian artists, whose work was both religious and secular. He travelled to the Holy Land several times, painting religious and landscape scenes. He also became rich by selling reproduction rights to his pictures of Palestine. His religious subjects included biblical scenes, such as the Last Supper, and the Biblical tale of the Scapegoat. This collection of religious paintings is considered one of the best examples of Victorian art.
After his marriage to Fanny Waugh, Hunt began painting erotically charged subjects. In 1866, he conceived an idea for a painting of his wife, Isabella. While in Italy, Hunt's wife, Fanny, died of a fever. The grief of the loss inspired Hunt to complete this painting, and he used some of Fanny's features in the figure of Isabella. After Fanny's death, Hunt returned to England and finished the work in January 1868. In addition to being an influential painter, Hunt wrote an autobiography in 1905-1906.
Evelyn De Morgan
A prominent British artist, Evelyn De Morgan created over a hundred oil paintings and hundreds of drawings in her lifetime. Her work displays the pre-Raphaelite and Swedish influences typical of mid-century literary painters. In fact, her paintings show Christian allegory and a strong belief in the afterlife. Nevertheless, her works are also worthy of celebration in their late Pre-Raphaelite glory.
After leaving the war, Evelyn De Morgan returned to London, where she exhibited her works in public galleries. Her work is highly influential and is widely collected today. Although she was not wealthy, she continued to create art, particularly landscapes. Her evocative portraits depict biblical and classical figures such as Medea and Ariadne. She also created many Spiritualist paintings, which personify intangible qualities and concepts. In addition to this, Evelyn De Morgan's last exhibition at her Chelsea studio featured her most famous paintings, including "S.O.S." and "1914." She used this opportunity to fund her charity work, the British Red Cross.
Known as a skilled painter of late Victorian times, Evelyn De Morgan created many works that reflect her unique personality. She drew inspiration from contemporary movements while simultaneously challenging them and satisfying her own socio-political concerns. She began her artistic practice at the age of 17 and eventually won a scholarship to the Slade School of Art. Her later writings also deal with themes of war and religious piety.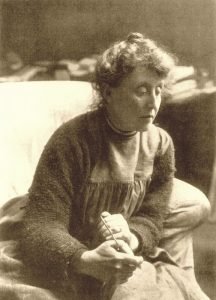 John Everett Millais
Born in 1816, John Everett Millais became one of the most famous Victorian artists. He was first a successful book illustrator, illustrating poems and works by Tennyson and Anthony Trollope. In 1864, his father-in-law commissioned stained-glass windows based on parables of Jesus. His career also spanned the print medium, from book illustrations to illustrating for literary journals and weeklies.
Millais was also a great portrait painter, and his "unfussy" adult portraits evoked the modesty and power of his sitters. The portraits were highly regarded and Millais was often compared to masters such as Rembrandt and Velazquez. Millais also produced highly effective paintings of young children, breaking ground in a field at the intersection of fine art and mass reproduction.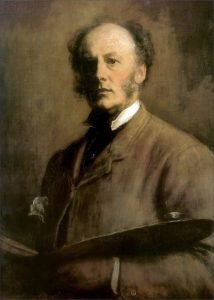 Lawrence Alma Tadema
Born in 1830, Lawrence Alma-Tadema studied in both Belgium and England before moving to England in the early 1870s. Queen Victoria recognized his talent and gave him British citizenship. While he had a difficult time settling in London, he did eventually find a home in a prestigious London neighborhood. His portraits were widely exhibited, and he was knighted in 1880.
The most well-known paintings by Lawrence Alma-Tadema depict women in classical dress on white marble. Other famous works by Tadema feature a blue Mediterranean background. A fascinating exhibition explores Tadema's life and career. Although he was born in a small village in northern Netherlands, he eventually moved to the center of the Victorian art world. This exhibition explores his paintings and his work.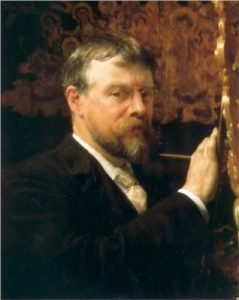 Richard Dadd
Dadd was one of the leading figures of the Clique, an elite group of ambitious young painters. But in 1842, he undertook a grand tour of the east, visiting Egypt, Syria, and Turkey. On his return journey, he became known as a "mad" artist and one of the most famous Victorian Orientalist painters. It wasn't until the final leg of his trip that he began acting strangely and claiming to be under the influence of the Egyptian god Osiris.
His tragic death reflects Victorian expectations of art. At the time, the Victorians thought of art as dangerous and explosive. Insanity was often treated with antipsychotic medicines and psychiatric wards. However, his doctors urged him to continue his paintings. A physician named Sir Alexander Morison encouraged him to do so and his paintings reflected his own emotional state. This is why his artwork is so popular today.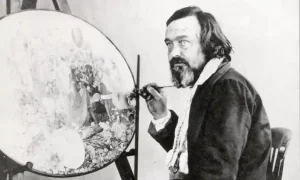 Edward Burne Jones
Although known as a painter of women, Edward Burne-Jones painted men and women alike in a similar manner. His paintings often portray women in languid poses, and their appearance seems to blur the boundaries of gender. In 1884, Burne-Jones painted a version of the Sleeping Beauty myth, in which soldiers sit prettily. His work, however, caused much controversy as his depictions of women lacked masculinity, as critics charged him with distasteful effeminacy.
Although he is better known for his paintings, Burne-Jones' life story is a complicated one. His early paintings were influenced by the Pre-Raphaelite painter John Everett Millais, who was responsible for stealing Ruskin's wife and then disgraced himself from public life for seven years. Fortunately, Burne-Jones went on to paint another version of Demophoon, with his manhood covered carefully.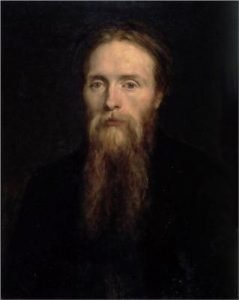 John William Waterhouse
John William Waterhouse was a British artist who was renowned for his portraits. His early works resembled those of Sir Lawrence Alma-Tadema but they became more unique with time. Waterhouse was particularly interested in depicting women, and he also painted portraits of various members of the Faringdon family. The following article will discuss his artistic career and his work as one of the most prominent Victorian artists.
Waterhouse's paintings depict mythic creatures, mainly women. His earlier works often depicted chaste women. In later years, he tended to abandon the ondine for the more dangerous naiads. However, despite his interest in classical subjects, his works still retain a strong resemblance to Victorian mythology. Waterhouse's works are included in major collections of paintings worldwide, including the Tate Gallery in London, the Art Gallery of Ontario, the National Museum in Australia, and the Royal Academy in London.
Although he was influenced by the Pre-Raphaelite movement, Waterhouse also used classical composition and themes. He was a successful teacher and was very influential. His portraits of ladies in a classical setting often feature perfect and uninteresting women. Waterhouse also used classical compositions and Pre-Raphaelite themes, but was primarily inspired by the classical style.