The most important thing to consider when hanging art in the kitchen is the style of the artwork. A kitchen is the busiest room in the house. You can cook, eat, watch TV, or even read a book! This means that it's full of competing objects. Therefore, it's best to choose artwork that has bold colors and images, and avoid using fabric or canvases. While you're in the kitchen, keep in mind the temperature in the room, the humidity, and the amount of moisture. You'll appreciate the look and feel of your new kitchen.
Regardless of your taste in art, the kitchen doesn't need to be expensive to look beautiful. A small framed piece of cuisine-themed art or black and white photography will do nicely. A printed quote of a favorite quote is also a great idea for adding flair to the space. It's easy to clean, but it won't make your cooking a pleasant experience. If you'd like to make your kitchen a more serene place, try a piece of nature. The peaceful vibe will leave you feeling refreshed and relaxed while you're cooking.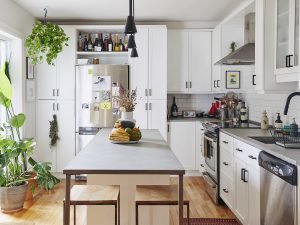 You can also hang paintings, tapestries, or even a vintage bust on your kitchen wall. The main purpose of hanging art in a room like this is to inspire you to cook better. If you're looking for something relaxing, try a painting of nature. The greenery and soothing hues of the forest will make you feel good while you're preparing meals.
In general, the only constraint for choosing what type of art to hang in the kitchen is cleaning. It's best to avoid using delicate art that will be easily damaged. Rather, opt for pieces made of durable materials such as ceramic or fabric. It's best to keep them off of countertops, so they won't be scratched by the heat and moisture of the kitchen. This will make them easier to clean.