Many people spend a great deal of time in the kitchen, so it makes sense to add a little art there. Not only will it add ambiance, but it will also inspire you to create tasty creations. If you want to hang artwork in the space, make sure to choose a location that is safe and out of the way of the sink and the hob. This will ensure that your artwork is protected from the heat and moisture in the kitchen.
While you don't need to buy expensive art to hang in the kitchen, consider choosing smaller pieces. A framed piece of cuisine themed art will add a touch of color and inspiration to the room. A printed quote or a black and white photo will give your space a personal touch. Nature-themed artwork, such as a landscape, will add a calming effect, and you'll feel good as you're preparing your food.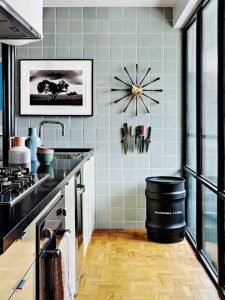 While hanging art in the kitchen requires some careful consideration, there are several benefits. First, you should make sure that it is at eye level. A picture in a spray zone should be at eye level, and the height should be at least 60 inches. For furniture, you can hang it six to eight inches above the furniture. You should be sure to place it about 2/3 the width of the piece. This will prevent splashes from ruining the artwork and can also help it to stay intact.